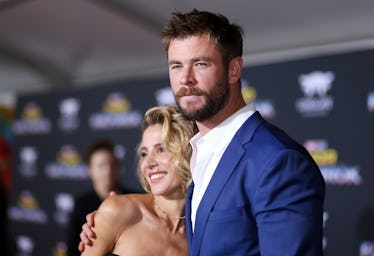 Elsa Pataky Said The Cutest Thing About Her Marriage To Chris Hemsworth & I'm Swooning
Rich Polk/Getty Images Entertainment/Getty Images
Chris Hemsworth is one of the hottest actors of the moment. However, with his roles in Thor, The Avengers, and Snow White And The Huntsman (and so many more), came big sacrifices. The father of three is busy, but luckily has a lot of support at home. His wife, Elsa Pataky, is definitely his rock and has a strong outlook on family, children, and careers. Elsa Pataky's quotes about Chris Hemsworth and their family are dripping with so much truth. She truly is an inspiration.
Pataky and Hemsworth met in 2010. Their whirlwind romance resulted in the couple being married after less than a year together. Now on their eighth year of marriage, the two live in Australia and share three kids. Their daughter India Rose, 5, and their twin sons, Tristan and Sasha, 3, are so adorable. Pataky is a Spanish actress, and recently opened up to Elle Australia about marriage and the struggles and rewards that come along with having children. Specifically, the changes that happened in her career versus her husband's.
Pataky concisely explained the shift that occurred in her career when she had children. She said that personally she didn't "appreciate" her career as much after having children. She said,
It's interesting how you can be a successful woman who has been working her whole life, and then you have kids, and suddenly your career isn't as important, and you don't appreciate it as much, and you just think, 'What am I doing? I have been fighting all my life for this, and now I don't know if I really want it?'
She continued by comparing some differences she noticed between her own experience and the one a man might go through.
It's unfair in a way because I don't think men go through that. But when you become a mum, everything that was important goes into second position. You change a lot. You mature, you see life differently and learn so many things.
Since she and Hemsworth were together less than a year before marrying, Pataky opened up about some of the hurdles that came along with their short courtship. Pataky also mentioned that the seven-year age difference between the two became more noticeable as Hemsworth tried to juggle raising a family with his budding career.
I think any time you start a family without knowing each other that much, it can be complicated... He was very young to be starting a family, and at the same time he was juggling that with his career and it was sometimes difficult, there was so much going on.
However, Pataky and Hemsworth are hopelessly in love with each other, and she didn't forget to gush over how amazing of a father he is.
She said,
But he was always trying to be the best dad and has never failed to make me feel like his family is the most important thing to him and [going through that] is how we've become so strong together.
All in all, Pataky loves where she is in life and is never afraid to move out of her comfort zone.
I always tell people, don't be scared of moving out of your comfort zone because if you are, you'll miss out on so much life. Almost every person I've met who has had the courage to leave everything and have another experience, they have never regretted it. Just go, leave everything, who cares what is going to happen? You'll have to start again? Great!
Although Chris Hemsworth's face is splattered all over social media feeds and movie screens, it's so interesting to hear Pataky's side of the story about the sacrifices it took to help him achieve his success. She is honestly amazing and so strong. Keep slaying, Elsa.
Check out the entire Gen Why series and other videos on Facebook and the Bustle app across Apple TV, Roku, and Amazon Fire TV.