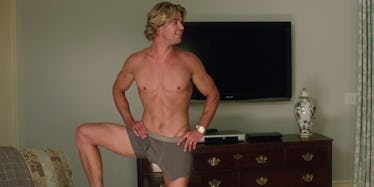 Chris Hemsworth Has A Humongous Penis And We Literally Can't Even
Youtube
Let's talk about dicks, shall we?
Hollywood has its fair share of famous phalluses: Jared Leto's. Jon Hamm's.
And the latest to enter the Hung Hotties Hall of Fame? Chris Hemsworth.
In the recently released trailer for "Vacation," the Aussie actor proudly flaunts his massive manhood in a tight pair of boxer briefs to the delight of every female on Earth (and a good percentage of males, too).
Some are already speculating Hemsworth's footlong is fake (perhaps he has a banana in his briefs?), but I'd like to think Thor is simply very well-equipped.
Here are some screenshots of his plus-sized package.
He's sexy and he knows it.
He's got the magic stick.
Whoomp, there it is.
Oh, and the rest of the trailer is pretty funny, too -- if you're into poop jokes and dirty talk (I am).
Check it out the whole trailer below!
Citations: Heres Chris Hemsworths Gigantic Penis In The New Vacation Trailer (BuzzFeed)