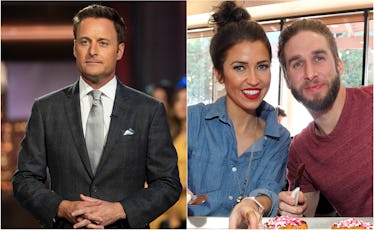 Chris Harrison Tried To Help Kaitlyn & Shawn When He Knew They "Were Struggling"
ABC & Tommaso Boddi/Getty Images Entertainment/Getty Images
Bachelor Nation is used to seeing short-lived relationships within the franchise, and viewers barely blink an eye when a Bachelor couple or a Bachelor in Paradise pair split. However, the recent breakup of former Bachelorette Kaitlyn Bristowe and fiancé Shawn Booth marked the rare occasion of a longtime Bachelor engagement ending. We know how fans react in these circumstances, but what about the man who watched these Bachelor couples fall in love from the sidelines? Chris Harrison's quotes about Kaitlyn and Shawn's breakup aren't too surprising, but he seems as bummed as the rest of us are about the split.
Chris's limited role on the show is the stuff of parody tweets and memes, but when he's not reminding contestants that only one rose remains, he develops friendships with the season's lead. In an interview with Extra on Nov. 6, the longtime Bachelor host revealed that he remains in touch with Kaitlyn and that he tried to help the couple when she shared her and Shawn's relationship struggles with him. Chris said:
I'm in very close contact with Kaitlyn, she's a very good friend of mine. I usually stay in touch with those who are the Bachelor [and] Bachelorette. I knew that [she and Shawn] were struggling privately, and I knew they were really trying to work it out. So, I was kind of like a counselor off-air, talking to her and trying to help them, because they were really fighting for it, really trying to make it work.
Back in ye olde Bachelor days, Chris's chats with the show's leads often appeared onscreen, but by the time Kaitlyn's season rolled around, they had definitely whittled down. We may not have gotten a great look at the two's friendship during The Bachelorette, but it's clear that as godfather of Bachelor Nation, Chris tried to help the pair make it work. At the end of the day, at least Bachelor people can count on him for some support.
Three years after meeting and getting engaged on Season 11 of The Bachelorette, Kaitlyn and Shawn announced their breakup on Nov. 2 in a joint statement, saying:
This difficult decision comes after thoughtful, respectful consideration. Even though we are parting as a couple, we're very much committed to remaining friends. We have both evolved as people, which is taking us in different directions, but with the hope that we will continue to support each other in new ways. Due to the nature of how we met, our relationship has always been very public, and we have enjoyed sharing it with all of you, but we ask that you respect our decision and our privacy at this time.
The breakup news came several months after Kaitlyn addressed rumors about their split on her podcast Off the Vine. The 33-year-old said, "Sometimes the relationship isn't being put first, but does that mean you call it quits? No... you work through it and yourselves to be better. And you know that times aren't always going to be smooth sailing."
Here's to Chris for doing what he could before the couple reached their final decision about their status. We'll try not to snark too much the next time he dramatically announces the presence of a single rose.
Season 23 of The Bachelor premieres on Monday, Jan. 7, 2019, on ABC.