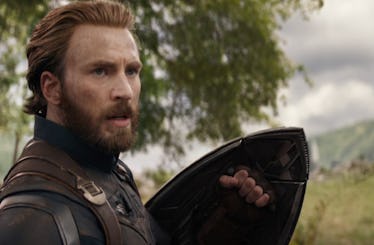 Chris Evans' 'Avengers' Tweet Wasn't A Spoiler, So Don't Say Bye To Captain America Yet
Marvel Studios
Chris Evans' future in the Avengers franchise hasn't exactly been a mystery in the past year. The man behind Captain America has been upfront about the status of his Marvel Studios contract and his desires to hang up his shield sooner rather than later, but fans still freaked when Evans tweeted about his final day on the Avengers 4 set earlier this month. The nostalgic tweet inspired fear that Cap's alter ego Steve Rogers would die in the epic superhero mashup, but according to the actor himself, Chris Evans' Avengers tweet wasn't a spoiler. Well, if Captain America says it, it must be true.
Evans' goodbye came after plenty of hints about his departure from the franchise. In a March interview with the New York Times, he shared that he didn't expect to return to Marvel movies after Avengers 4, telling the paper, "You want to get off the train before they push you off." Marvel's plans for beyond Avengers: Infinity War also reflected his likely exit, scheduling a stint of post-Avengers 4 movies about the newer crop of superheroes introduced onscreen in the last few years, known as Marvel's Phase Four. Evans also wasn't the only original Avengers star to discuss stepping away, as Robert Downey Jr. and Chris Hemsworth have also hinted toward the end of their lengthy contracts approaching.
Still, these real-life clues didn't stop some fans from speculating about a deadly final chapter for Evans' Captain America. On Oct. 4, Evans commemorated his completion of work on the untitled fourth Avengers film with a heartfelt tweet. He wrote, "It was an emotional day to say the least. Playing this role over the last 8 years has been an honor."
Although the majority of fans' responses honor Evans' time in the role, some of his followers took the message to mean that the character is in trouble in Avengers 4. Cap was one of the few heroes left standing at the end of Infinity War when Thanos used the Infinity Stone to vanquish half of the population, but Evans' openness about his franchise departure has always fueled curiosity about Steve Rogers dying in the final Avengers movie.
In case you interpreted Evans' tweet as a spoiler about Captain America's fate, rest easy. At Chicago's ACE Comic Con, Evans explained the meaning of his post, telling an audience:
I should clarify that, I know I did tweet something that made a lot of people think that it was in some way a spoiler, and I should clarify that, regardless of how Avengers 4 ends, I would've tweeted the exact same thing... It was the culmination of almost 10 years of filming and 22 movies... and you feel a lot more emotions than I think even I thought I'd feel, and I felt it was appropriate to share the gratitude. I know it had a ripple effect, but I am neither confirming nor denying anything.
Cue Marvel fans' collective sigh of relief.
No matter how Captain America / Steve Rogers' fate turns out in Avengers 4, here's hoping that the character receives a sendoff as sweet as Evans' goodbye tweet.
Avengers 4 is in theaters on May 3, 2019.