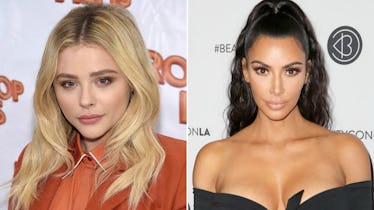 Chloë Moretz Wants You To Stop Asking Her About Kim K & There's A Really Good Reason Why
Jamie McCarthy/Getty Images Entertainment/Getty Images | David Livingston/Getty Images Entertainment/Getty Images
Chloë Moretz is over Kim Kardashian and the supposed feud they had back in 2016. Not only is this feud so old that people barely remember it, but Moretz is frustrated by the fact that people keep asking her about it. Moretz appeared on a recent episode of Watch What Happens Live With Andy Cohen and was, of course, asked about Kardashian. But the Kardashian questions continue to follow her wherever she goes no matter how many times she addresses it. And you know what? Chloe Moretz's response to getting asked about Kim Kardashian constantly is really commendable.
In an interview with Refinery29, Moretz explained how she felt about the whole Kardashian situation:
I'm over it. There are so many things that we talked about last night on Watch What Happens Live and the fact that literally the one headline across every single major news site right now is me and Kim Kardashian. It's a dead story, in my opinion. I'm tired of being asked about it, and I'm tired of that story being picked up, especially when I'm promoting a movie about conversion therapy, that is a very real, modern issue in America.
She's so right about it being a dead story! It's old news and it seems like Moretz and Kardashian have both moved on. But, on the flip side of things, the Kardashian name sparks a lot of interest, so it's easy to see why Moretz is always asked about the situation.
Rather than give in to the gossipy nature of the question, Moretz simply summed up the whole thing in a simple sentence:
There's no need to keep harking back to something that literally happened three or four years ago now.
So, what exactly happened back in 2016? Well, believe it or not, it all started with a tweet. In March 2016, Kardashian posted a nude photo of herself, in which she's standing in front of the mirror, with nothing but two black rectangles censoring out the body parts that would have broke Instagram's community guidelines.
Here's the pic Kardashian posted in March 2016:
As expected, people started reacting strongly to the photo, including celebs like Bette Midler, Piers Morgan, and Moretz.
When Moretz saw the photo, she tweeted some strong words about it:
I truly hope you realize how important setting goals are for young women, teaching them we have so much more to offer than our bodies … There's a huge difference in respecting the platform that you're given as a celebrity and 'slut shaming,' something I never have done and would never do.
Here's a look at her tweets:
Not one to take things lying down, Kardashian clapped back with this (she also clapped back at everyone else who had something to say about it):
And thus, a new celebrity feud was born.
But again, that was over two years ago and Moretz and Kardashian have moved on to other things. For example, Kardashian is all about politics and social justice now. And Moretz is busy promoting a film about the dangers of gay conversion therapy.
So, it's safe to say that it's time to bury the hatchet and never bring this tired, old feud up ever again.