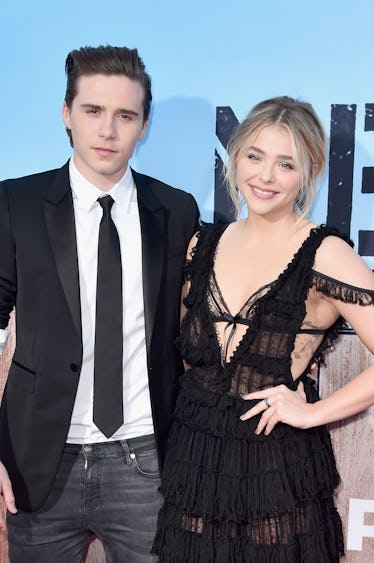 Chloë Grace Moretz Might Be Dissing Brooklyn Beckham With This Detail On Her Outfit
Alberto E. Rodriguez/Getty Images Entertainment/Getty Images
It must be truly exhausting being a young person in Hollywood. First of all, the normal rules of dating don't apply to you. Second of all, loads of people probably want to date you. Third of all, you likely have angel baby skin, which I know has nothing to do with dating, but is probably disorienting nonetheless. Actress Chloë Grace Moretz and aspiring photographer Brooklyn Beckham have been playing the on-again, off-again game for some time. Thanks to a fashion choice made by Moretz, it looks like they're officially OFF again. Chloë Grace Moretz' "C" ring looks like it could be throwing subtle shade at Posh Spice's offspring, and young people everywhere are all "GASP!" about it.
Moretz, 21, and Beckham, 19, first began dating back in 2014, but have been less-than-consistent in their relationship. However, back in 2017, they made a bold statement rocking matching rings on their ring fingers (HeeLLLoooO!) with the first letter of each other's names in the center. Clearly, it was a sign of commitment. But — PLOT TWIST — Moretz just flipped the script on the red carpet at the GLAAD Awards when she showed up wearing the same ring, but instead of the usual "B" for Brooklyn, it had a "C," presumably, for Chloë.
You can see it here.
Drah-muh.
According to Cosmopolitan, the tiny burn might be due to a rumor going around about Beckham. And when I say rumor, I mean photos of him kissing another woman. And when I say another woman, I mean Playboy model Lexi Wood.
Wood and Beckham were spotted hanging out at a tattoo parlor in Los Angeles earlier this April.
Shortly after the photo leaked, Moretz posted a screenshot of her playlist listening to Cardi B's song, "Be Careful," which fans think might have been a message to Beckham. Some of the lyrics are:
The only man, baby, I adore / I gave you everything, what's mine is yours / I want you to live your life of course / But I hope you get what you dyin' for / Be careful with me, do you know what you doin'? / Whose feelings that you hurtin' and bruisin'? / You gon' gain the whole world / But is it worth the girl that you're losin'? / Be careful with me / Yeah, it's not a threat, it's a warnin' / Be careful with me / Yeah, my heart is like a package with a fragile label on it / Be careful with me
Moretz also called Cardi B a Queen.
Beckham and Moretz haven't mentioned each other on social media in a while, either. On Valentine's Day, Beckham posted a selfie of himself and Moretz presumably getting dinner. The night before that, he shared a black and white photo of his then on-again GF with the caption, "Happy birthday baby. love you to the moon and back xx"
Similarly, Moretz posted a picture of Beckham laughing on March 4, and wished him a happy birthday, too. She wrote, "Never Stop Smiling, I Love You, Happy Birthday Brooklyn."
Ah yes. Happier times.
The truth is, these two are so young and have so much time to figure their romance lives out! Not that anyone asked for it, but my very professional, non-celebrity, 28-year-old advice to Beckham and Moretz is: Treat the people you're dating kindly, and don't take no sh*t from nobody, even if they're a Spice Girl's son.
Write it on my tombstone.
Check out the entire Gen Why series and other videos on Facebook and the Bustle app across Apple TV, Roku, and Amazon Fire TV.