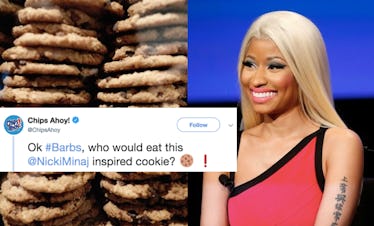 Chips Ahoy! Tweeted About A Nicki Minaj Cookie That Has Actual Pink Chocolate Chips
Jason Kempin/Imeh Akpanudosen/Getty Images Entertainment/Getty Images
In case you didn't know, Nicki Minaj released her latest album, Queen, in August 2018. The album includes a song called "Good Form," in which the singer raps about cookies! (Um, well, kind of.) Fast forward to Nov. 29, and a music video was released for the song. Unsurprisingly, the video features Minaj sitting in a tub of milk underneath a gigantic pink sugar cookie. I definitely admire the creative direction — and apparently, Chips Ahoy! was inspired by it. Why? Because Chips Ahoy!'s tweet about a Nicki Minaj-inspired cookie might be evidence that the company is concocting a treat in honor of the rapper.
Elite Daily reached out to Chips Ahoy! and asked if the company is planning to release a Nicki Minaj-inspired cookie, but has not heard back by the time of publication. However, based off tweets from both Chips Ahoy! and Minaj, a new snack definitely wouldn't be a surprise. The rumors officially began on Nov. 29 when Chips Ahoy! tweeted about a Nicki Minaj-inspired treat. The tweet features a standard chocolate chip cookie — but in the photo, the chocolate chips are actually pink. In its entirety, the tweet says, "Ok #Barbs, who would eat this @NickiMinaj inspired cookie?"
I know I definitely would.
Side note: The "Barbs" that Chips Ahoy! mentioned in the tweet probably refers to the "The Barbz," aka Nicki Minaj's online fanbase.
Anyway, let's continue. About one hour after Chips Ahoy! posted about a cookie with pink chocolate chips, Twitter user @brokeboybvibe tweeted a screenshot of Nicki Minaj replying to a Chips Ahoy! tweet. By the looks of it, she wrote, "HEAVY" with an exclamation mark emoji, along with cookies and milk emojis. I'm no Twitter expert, but a tweet like that looks like Nicki might be up for a cookie collaboration.
Twitter user @brokeboybvibe also included a screenshot of Chips Ahoy! replying to its own tweet, mentioning him and two others in the thread. Above the screenshots, he wrote, "Chips Ahoy cut the check I want all this money" with a laugh-crying emoji.
Now, here's the kicker. Shortly after @brokeboybvibe posted the screenshots, Minaj quoted his tweet with a frustrated emoji and a laugh-crying emoji. Could this confirm that she actually wants a Chips Ahoy! cookie in her honor?
That's not all, though. Right after Minaj quoted @brokeboybvibe's tweet, she retweeted @RogueReloaded's tweet about the cookie idea. His tweet quoted Chips Ahoy!'s initial post, and says, "Um can this really happen tho."
OK, now I am convinced that Minaj is up for a Chips Ahoy! collaboration. However, she never released any official confirmation that a collaboration would be happening. Elite Daily reached out to Minaj to see if she plans on working with Chips Ahoy!, but has not heard back by the time of publication.
Based off Chips Ahoy!'s Twitter page, though, the company is already brainstorming what kind of cookie they'd make in honor of the star. Throughout the Twitter convo, the company quoted Minaj's initial response, and said, "So, is that a yes?"
Then, the company created a Twitter poll asking fans whether they'd like the #NickiCookie to be Original or Chewy. (I voted for Chewy, because, duh.)
At the time of publication, there are no more confirmations that a Nicki Minaj-inspired chocolate chip cookie is in the works. However, cross your fingers that the rapper and the cookie company actually collaborate on the sweet treat. In the meantime, watch Minaj's new music video for "Good Form" to see how the conversation even started.