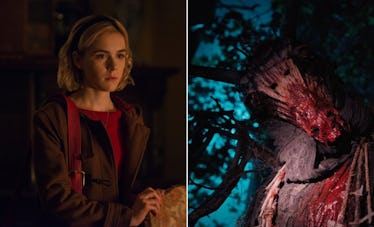 'Chilling Adventures Of Sabrina' Hints About 'Riverdale's Gargoyle King, So Watch Closely
Netflix, CW
In some ways, this season of Riverdale has kind of felt like a tonal lead-up to the release of its new sister series Chilling Adventures of Sabrina. The Season 3 premiere of Riverdale shocked fans by introducing new, seemingly supernatural threats into the series, which had never really flirted with magic or demons before, and just two weeks later, Sabrina dropped a heaping helping of supernaturalism on the other side of Sweetwater River. Now, fans think Chilling Adventures of Sabrina may hint about Riverdale's Gargoyle King mystery, which definitely feels more like its part of the Sabrina world than the Riverdale we are used to.
Spoiler alert: This post discusses plot details from the first seven episodes of Chilling Adventures of Sabrina and the first three episodes of Riverdale Season 3. Prior to Chilling Adventures of Sabrina's big debut, one of the biggest questions that fans had was whether we would see some crossover between the spooky new series and Riverdale. Although the actors and creatives behind both shows emphasized many times that there would be no crossover, there actually are a bunch of nods to Riverdale in Sabrina, and even a very shocking cameo.
The town of Riverdale is mentioned several times throughout Chilling Adventures of Sabrina: The high school bullies ask if the Weird Sisters go to Riverdale High, Harvey mentions that his family visited a mortuary in Riverdale, and Ms. Wardwell speaks about the magical energy in the forest surrounding Sweetwater River, which is the boundary between Greendale and Riverdale. But the most jaw-dropping crossover happens in Episode 7, when Miss Wardwell gets a pizza delivered by none other than Ben Button, one of the most shocking characters on this season of Riverdale.
This brief cameo has massive implications for the Gargoyle King mystery that is currently still shrouded in mystery on Riverdale. At the beginning of Season 3, Jughead discovered Ben nearly dead from ingesting cyanide in the woods after playing a game called Griffins and Gargoyles. Shortly afterwards, Ben jumps from a hospital window and kills himself in the name of the mysterious Gargoyle King. So then... what is he doing delivering pizzas in Greendale?
The timeline only makes things more confusing. The Riverdale Season 3 premiere takes place on Labor Day, meaning that Ben jumped from the window sometime in early to mid-September. Meanwhile, Sabrina's birthday and dark baptism take place on Halloween, so Ben's pizza delivery appearance on Sabrina must have occurred sometime in November. Could this mean that Ben survived his fall and secretly relocated to Greendale? We already know that Ben is acquainted with the town, since he took piano lessons from Miss Grundy after she relocated there, so it could make sense that he would hide there.
That said, it does not seem like we are going to be seeing any more of Ben after his little cameo in Sabrina. The demonically possessed Ms. Wardwell seemed to make it pretty clear that the pizza was not the dinner she was really eyeing. But still, if Ben really did survive his fall and ran off to Greendale, then maybe that means he was not as fanatically enthralled by this Gargoyle King as Riverdale led us to believe. Could the Gargoyle King have some sort of hold on his followers that wears off with distance? We will have to see how Ben's relocation to Greendale affects things back home in Riverdale moving forward.