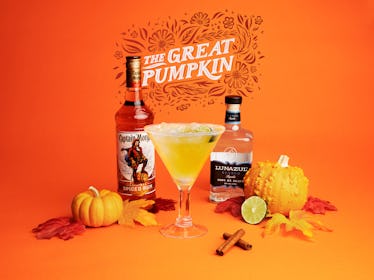 Chili's' $5 The Great Pumpkin Margarita Is Here For PSL Lovers Who Need A Drink
Courtesy of Chili's
In my opinion, PSLs are *the* fall beverage. I love pumpkin spice, coffee, and whipped cream, so it's a no-brainer. But sometimes, I need a drink. I'm not talking about any drink, though... I'm talking about a drink. You know, a boozy offering that I can enjoy at the bar after a long day. Thankfully, Chili's $5 The Great Pumpkin Margarita is here to help satisfy my autumnal pumpkin cravings in the form of alcohol. Now, I can sip on a refreshing margarita and celebrate the spooky season at the same time.
Really, though, The Great Pumpkin Margarita at Chili's sounds like the perfect go-to beverage for fall drink enthusiasts who need a little "BOOs." (See what I did there?) The drink is Chili's Margarita of the Month for October, and it only costs $5. In other words, you can recruit a designated driver and celebrate Halloween on a budget when you visit the restaurant. Don't worry about showing up for Happy Hour, though. The seasonal offering is available all day, every day throughout October, according to Chili's website. In other words, you can visit the eatery anytime you want between now and Halloween to indulge in the special's boozy fall flavors. If you stop by for a glass, drink responsibly (and find someone to drive you home).
I say that because this margarita is packed with booze. According to a comment by Chili's on the company's Facebook post about the drink, it's made with Lunazul Silver Tequila, Triple Sec, Captain Morgan, and, of course, Monin Pumpkin Spice Syrup (!!!). Yes, I said it. This margarita has freaking Pumpkin Spice Syrup in it. According to Monin's website, the syrup features flavors of cinnamon and nutmeg, which means you'll get that PSL taste you know and love with each boozy sip.
I couldn't be happier about this drink, guys.
Again, this beverage is only $5, so it's definitely worth a try. If you're shocked by its cheap price, you shouldn't be. Chili's offers a different $5 margarita every month — and it seems like each one is reflective of the season it's featured in. For instance, the company offered The Grand Peach Margarita in August, and The Crown Apple Crisp Margarita in September. In my opinion, The Crown Apple Crisp was the perfect drink to kick off the fall season — and The Great Pumpkin is the perfect margarita to follow.
If you're interested in sipping on The Great Pumpkin Margarita during the company's Happy Hour, go for it. As I previously mentioned, the drink price won't change (it'll still be $5), but you will be able to grab some food deals while you're there. According to Chili's website, its Happy Hour offers appetizer deals that range from $3 to $6, including Chips & Salsa, Guacamole, Smoked Wings, and more. To find Chili's Happy Hour specials near you, click here and enter your zip code in the search bar. Then, the closest restaurant location to you should populate on the screen.
Between discounted food and monthly margaritas, Chili's Happy Hour sounds like a delicious time. However, I have a feeling I'll be visiting the restaurant for The Great Pumpkin Margarita quite a few times this October (Happy Hour or not).