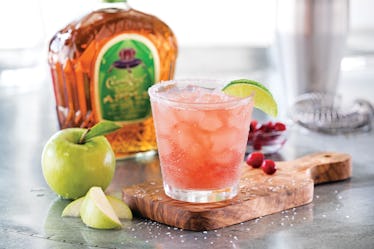 Chili's New $5 Margarita Sounds Like The Boozy Autumn Drink Of My Dreams
Courtesy of Chili's/ Brinker International
Do you know what I'm really going to miss about summer? Margaritas. There's nothing like sitting by the pool on a hot afternoon while sipping on a cold marg' — and apparently, Chili's understands. The restaurant made it easier for everyone to leave summer behind by creating a fall-inspired margarita. The new drink, which is rightfully called "The Crown Apple Crisp," will give you total summer vibes with the slightest taste of fall. It's pretty much perfect for anyone who's hoping to kick off autumn on a boozy note. If the sound of Chili's $5 Crown Apple Crisp Margarita sounds appealing to you, I'll tell you a little bit more about it.
First, let's get one thing out of the way: You must be at least 21 years old to order and consume this marg' (obviously). If you're of age and decide to give it a try, drink responsibly and make sure you have a designated driver. This drink is packed with booze, so it's best to be smart about it.
To be exact, The Crown Apple Crisp is made with Jose Cuervo tequila, Crown Royal Regal Apple Whiskey, cranberry juice, and fresh sour, per Chili's menu. I'm assuming that the combination of tequila and apple-flavored whiskey creates the perfect drink for both summer and fall. Not to mention, the drink's rim is covered in sugar and topped off with a lime wedge. It sounds like the best September bev', and I'm stoked to give it a try.
Oh, did I mention that it's only $5?
Five. Freaking. Dollars. That's less money than my usual coffee order, and I'm definitely pumped about it. The price is nothing new for Chili's, though — because the company offers a $5 margaritas each month. And since September is a transitional month between summer and fall, the The Crown Apple Crisp is the perfect offering. Like all month-long marg' offers, the drink will only be available until Sept. 30, 2018, per Eat Drink Deals. With that being said, make sure you grab a friend and head to Chili's before October comes rolling around.
While you're at it, you should check out Chili's Happy Hour deals. I mean, let's face it: What's better than drinking a delicious margarita with a side of cheap (and yummy) appetizers? The answer is nothing. According to Chili's website, the company's Happy Hours take place at participating restaurants on Monday through Thursday from 3 p.m. to 7 p.m., and from 9 p.m. to close. On Friday, Happy Hours take place from 3 p.m. to 7 p.m. (all local time). Sundays are extra happy, because Happy Hour takes place all day long. In order to find out which Chili's restaurants near you offer Happy Hours, enter your zip code on the company's website.
Cheers to Happy Hour (and Crown Apple Crisp Margaritas).
Once September is over, you'll have to say goodbye to Chili's $5 Crown Apple Crisp Margarita. However, you'll be able to say hello to a brand new monthly flavor. I hope Chili's offers something spooky for October in honor of Halloween, but that's just me.