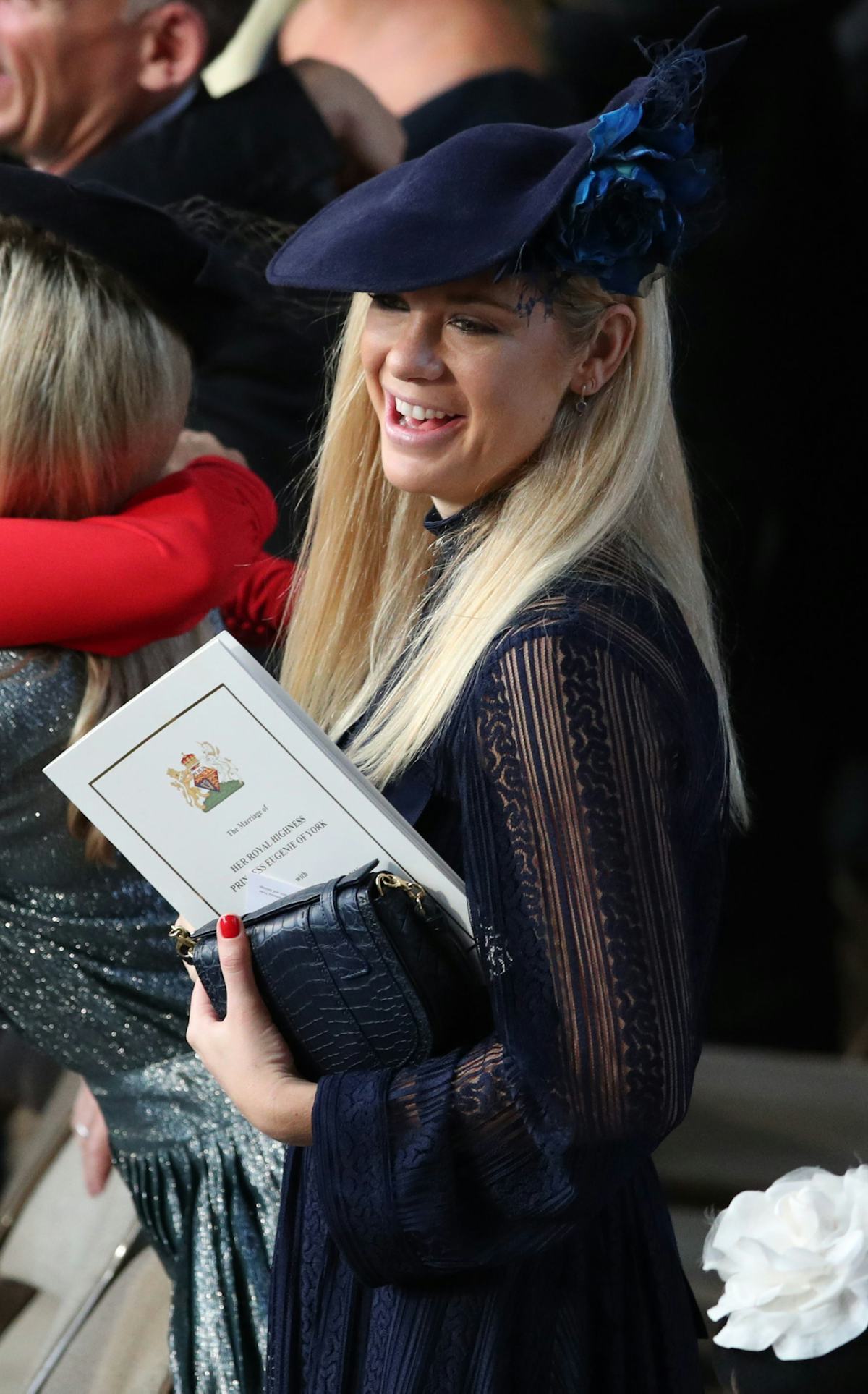 Chelsy Davy & Meghan Markle Had One Thing In Common At Princess Eugenie's Wedding
WPA Pool/Getty Images Entertainment/Getty Images
Usually, when you break up with someone, you tend not to see that person very often. But what if your ex-boyfriend is sixth in line to the British Crown and you happen to be best friends with his first cousin? Oh, and that cousin is getting married in a lavish ceremony where plenty of family will be in attendance. Well, that's exactly the case for Chelsy Davy at Princess Eugenie's wedding, but it's not as dramatic as it might seem.
Since Princess Eugenie and Davy are great friends, it only makes sense that Davy would want to be there for her friend's big day. And she was. Davy showed up in a navy blue outfit at St. George's Chapel at Windsor Castle on Friday, Oct. 12, for the wedding ceremony between Princess Eugenie and Jack Brooksbank. Of course, there is the slightly awkward fact that Davy's ex-boyfriend and first cousin of Princess Eugenie, Prince Harry, Duke of Sussex, was also there with his wife, Meghan Markle, Duchess of Sussex. TBH, seeing as though Davy and Prince Harry broke up way back in 2011, there doesn't actually seem to be any real noticeable bad blood.
And why should there be? The Oct. 12 wedding is all about Princess Eugenie's big day. Plus, Davy previously attended the wedding of Harry and Meghan back on May 19, 2018, so they definitely have this whole "cordial" thing down. And Davy has plenty of reason to be excited for her good friend. Princess Eugenie and Davy have been close since Davy first met Prince Harry way back in 2004. In fact, there were photographed out together this past summer in June 2018, coming out of Annabel's, a members-only club, and they looked happy as could be sharing a night out on the town as besties, per The Daily Mail.
However, it's kind of ironic that Davy and Markle showed up to Princess Eugenie's wedding wearing the same exact color. I'm sure it was just a coincidence — but yikes, that's awkward. As you can see, Davy wore a navy blue cocktail dress with a navy blue shaw and headpiece. Markle, on the other hand, wore a knee-length navy blue dress and jacket, along with a navy blue hairpiece.
Regardless of their "twinning" attire, both women looked lovely.
Prior to the big day, Angela Levin, journalist and royal family expert, posited that Davy might find the publicity surrounding Eugenie's too overwhelming to handle, per Daily Express. In Levin's 2018 book about Prince Harry, Harry: Conversation with the Prince, she wrote about Davy's reaction to attending the April 2011 wedding of Prince William, Duke of Cambridge, and Kate Middleton, Duchess of Cambridge. Levin shared in the book,
A friend revealed that seeing the enormity and pomp of the day convinced Chelsy that she and Harry had been right to separate. Although they had a lot in common, she saw clearly that because they came from such different worlds it could never have worked, especially as she valued her privacy and guarded it so carefully.
Still, it seems to me like Davy was completely unbothered at Princess Eugenie's big day. Her getup just proves that her and Markle have great taste in style.