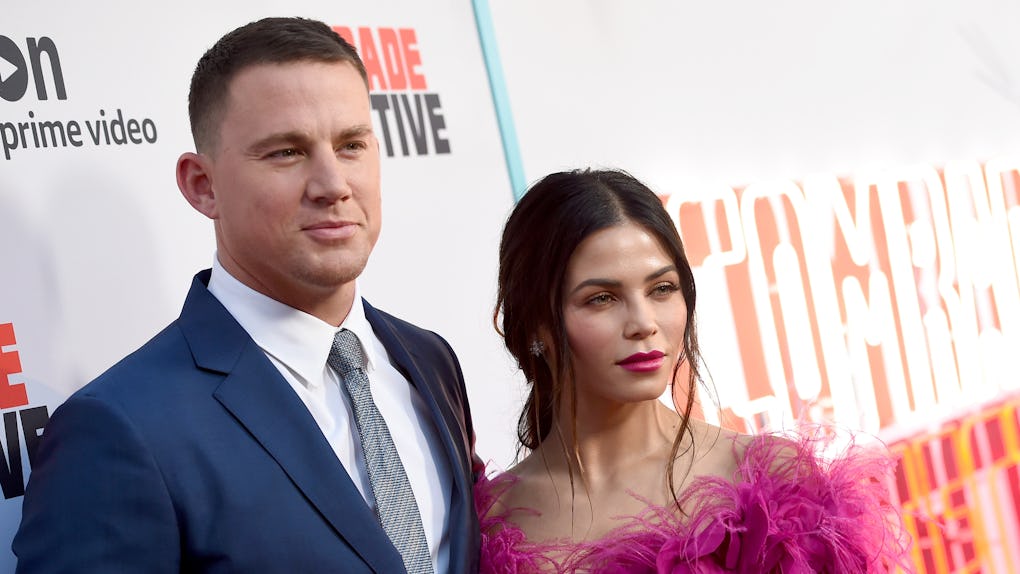 Kevin Winter/Getty Images Entertainment/Getty Images
Channing Tatum & Jenna Dewan's Body Language Shows They Still Care & It's So Sad
I think I can speak for everyone when I say that Step Up was easily one of the most inspiring movies of an entire generation. And while the dancing was great, what was even more spine-tingling was the obvious, oh-so-real chemistry between Channing Tatum and Jenna Dewan — like seriously, it was almost too much. So, it wasn't much of a surprise when the couple started dating IRL while filming and ended up getting married in 2009. But sadly, the couple has recently decided to part ways. Photos of Channing Tatum and Jenna Dewan's body language, regardless of their split, suggest they were and likely always will be two people who deeply care about each other.
Sadly, this is a reminder that all good things must come to an end at some point. After almost nine years of what seemed like one of the happiest marriages in Hollywood — and one adorable baby later — the couple officially announced their decision to part ways via Instagram on April 3. While, I think I speak for most of us when I say that knowing these two didn't make it is definitely a bummer, only the people inside of a relationship know when it's time to call it quits. To decode Tatum and Dewan's physical closeness in the months before their split, I spoke with body language experts Patti Wood and Traci Brown
1. Dewan Seemed Genuinely Happy
While breakups often come with a lot of conflicting emotions, in the end sometimes cutting your losses is the best course of action. Just because a couple decides to break up, doesn't mean all of the months leading up to a split are bad.
It would seem like that's the case with Tatum and Dewan in this photo from last summer. Both Brown and Wood agree that Dewan looks like she's sincerely caught up in her bae, in a good way.
"You see her giving him that loving gaze and angled in towards him," Brown tells Elite Daily. "Her attention is fully on him."
Brown also points out that Tatum isn't mirroring Dewan's same expression or face, which might imply that his energy wasn't fully on her.
2. They Seemed "Pleasant"
"We see two people who have pleasant looks on their faces," says Brown. "They're close, look great, but I don't see their eyes really smiling."
And it goes without saying that paparazzi photos can be a bit trickier to get an accurate read on because celebs are legit getting paid to look beautiful and happy — but either way, these two still seem like two people who have a lot of love for each other.
The heartfelt Instagram post alerting fans of their decision to "lovingly separate," was very telling, and based on their body language, you can tell they were being honest. These two look like they have a lot of love for each other, but at the end of the day, all of the love in the world can't save a relationship that is no longer making both people happy.
3. Their Eyes Seem A Bit Sad
"The choice to do this sad make up photo together is interesting," Wood tells Elite Daily. Both Wood and Brown agree that Tatum and Dewan's eyes have a twinge of sadness.
I would guess the face paint was probably part of some fun antics with their adorable daughter Everly, but the way they are resting their heads against each other really makes me believe their decision to separate must have been one of the hardest things ever. None of us know the intricacies of what drove Tatum and Dewan to end their relationship, but that doesn't mean they don't still have love for one another — marriages are just complicated. Relationships in general can be complicated.
When things go south in a relationship, sometimes all of the effort in the world can't make things work, because maybe your hopes, dreams, and visions for the future are no longer compatible. Whatever it was that drove a wedge between the couple, we have to admire their maturity and grace upon announcing their split, and their decision to remain amicable. This is undoubtedly a difficult time for everyone involved.