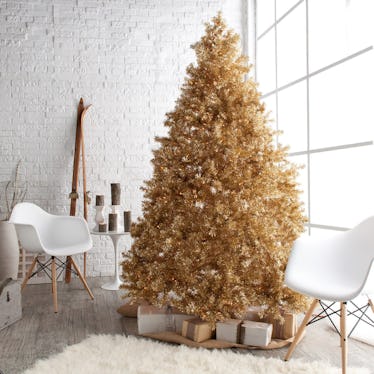 Champagne Christmas Trees Are Actually Stunning & Your Standard Green One Is Shook
When you think of Christmas trees, you probably have a pretty good idea of what's considered the norm. Whether it's real or artificial, your tree is likely green, and decked out in the most colorful ornaments. Strings of beads add a glam touch, along with fairy lights, red bows, and maybe even tinsel. (Of course, you can't forget the angel or star tree topper!) But, what if you're a Christmas enthusiast who wants to switch things up a bit this year? Enter champagne Christmas trees. Champagne Christmas trees are here to sleigh the holiday season, and your standard green one is feeling pretty shook right now.
White Christmas trees have likely made an appearance on your holiday Pinterest boards in the past, and some tree farms even offer colorful evergreen trees for purchase. But for the person whose apartment screams minimalistic chic — think marble print, gold and rose gold accents, and plants everywhere — a champagne Christmas tree might just be this year's go-to holiday decoration.
Don't get me wrong: I'm very much a traditionalist when it comes to Christmas decorations. I live for an ornately decorated wreath, presents wrapped in gold bows, and stockings with your name embroidered on them. I'm also all about showcasing those nostalgic ornaments that were decorated back in elementary school. But this champagne Christmas tree trend seriously has my inner interior designer swooning, and I really want to try it out.
Not only are champagne trees themselves already a statement, but they allow you to put a twist on the rest of your favorite Christmas decor. For mine, I'm thinking clear lights, white ornaments, and maybe some non-traditional pops of color throughout, like blue or pink. (I'm currently obsessing with all things turquoise and teal, like these amazingly glittery bows.)
Check out some of my favorite champagne-colored trees, and pick out one up for yourself if you're feeling the champagne vibes. Happy decorating, and a Merry Christmas to all!