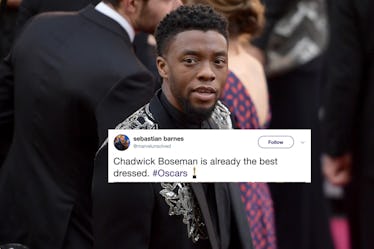 Chadwick Boseman Looks Like A Regal Masterpiece At The Oscars & Twitter Is Bowing Down
Matt Winkelmeyer/Getty Images Entertainment/Getty Images
Chadwick Boseman destroyed the box office this year, headlining in the record-breaking Black Panther movie, but his character isn't the only thing that's super. Chadwick Boseman's 2018 Oscars look has Twitter bowing down, particularly thanks to his adorable smile and rad AF embroidered jacket.
Boseman is no stranger to portraying inspirational heroes on the silver screen. Though his acting chops have been well known amongst the cinematic community for years, Boseman is finally getting the recognition that he has so long deserved. He became a household name earlier this year after his gorgeous portrayal of Marvel's Black Panther, the first mainstream black comic book hero.
Boseman is setting the bar high both on and off screen. Though he may not be wearing a skin-tight super suit (bummer for those of us watching the red carpet from home), Boseman set the standard for fashion high with his stunning embroidered coat and sleek jewelry. Seriously, he has my vote for best-dressed actor of the night. His knee-length black coat was embroidered with white thread along either side of his lapel and down the back. Plus, look at how great that modern black and silver jewelry looks as Boseman does the Wakandan salute! The only thing more gorgeous than his outfit is his adorable smile. Doesn't it make you just want to melt into a puddle of goo on the floor? You can just tell he's as kind and sweet IRL as he seems in all of his interviews.
His look was truly fit for a king. The embroidery deserved an exhibition in the Met museum. His shoes also deserve an honorable mention. That bold silver zipper down the center perfectly ties in with the embroidery and the jewelry. His look was clean, sleek, and royal AF.
Boseman's skin glowed thanks to makeup artist Saisha Beecham and VENN skincare. Beecham used the VENN Age-Reversing All-In-One Concentrate ($185; vennskincare.com). This prep step is an all-in-one product that acts as a toner, essence, serum, and moisturizer. Have you seen Boseman's skin? I suddenly believe in the age-reversing claim.
Of course, Twitter had an absolute field day with Boseman's look (and just Boseman in general). This Twitter user bowed down to his majesty.
This Twitter user might be sending Boseman a bill from Best Buy.
Now fans won't feel bad about paying their cable bills because Boseman has made it all worth it.
I think we're all unanimous on this.
Seriously, what a blessing to have Chadwick Boseman on the red carpet and just in our lives in general.
The iconic Blanche from Golden Girls understands your thirsty feels, don't worry. If you don't have a water spritzer handy, you can always just take a cold shower. That's always an option.
He's officially entered "bae territory," apparently. I couldn't agree more.
I don't know where this meme came from, but same, honestly.
He certainly is the best dressed. No doubt about it.
I, too, want to know who made his jacket, and if I can also have one in my size.
Some Boseman fans are wondering if the star has somehow come across the fountain of youth. Did you know that he's 40? I legitimately thought he was 25 at most.
Once again, we're all in agreement on this one. Does he have a great skincare routine? Is it genetics? Has he been low key bottling magic youth potions for years? The world may never know.
Seriously. though, if he started a skin care line, I would definitely be buying it tomorrow.
He also posed on the red carpet repping his already iconic superhero character, and fans were in love.
He also shouted, "Wakanda Forever," on the red carpet, and people understandably lost their minds.
Boseman is a true hero on and off screen.
Thank you, Chadwick Boseman, for your incredible acting skills, your inspirational words, your extreme and apparently immortal hotness, and now, for your sleek yet royal fashion sense.