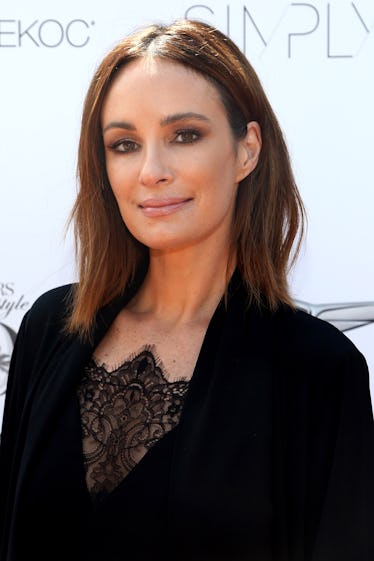 Catt Sadler Responds After Actresses Call Out E! — While On E! — Over Equal Pay
Tommaso Boddi/Getty Images Entertainment/Getty Images
One thing is for certain: You can always depend on your girls to have your back. While walking the Golden Globes red carpet on Jan. 7, actresses wore black to take a stand against sexual assault and support harassment victims, and to bring awareness to the Time's Up movement. But celebrities also highlighted the wage gap, including by citing one specific example. And now, Catt Sadler's response to actresses at the Golden Globes — who backed her decision to leave E! News after discovering a pay disparity between her and her male co-host — might make you shed a tear.
On Monday, Jan. 8, in a heartwarming post, Sadler took to her Twitter page to praise and thank the actresses who stuck up for her at the annual awards show for their honorable stances against gender inequality and the wage gap.
"To the sisterhood of strong women using their voices on my behalf — I'm humbled, grateful, and beyond inspired by your relentless pursuing of what's fair for ALL women," Sadler wrote in the emotional post, tagging Sarah Jessica Parker, Debra Messing, Eva Longoria, Amy Schumer, and Brie Larson. "I salute you, I love you, and miss you. #TimesUp."
Sadler was responding to multiple actresses who openly advocated for equal pay on the Golden Globes red carpet in the midst of discussions of gender inequality and sexual harassment that continues to plague Hollywood.
On Dec. 19, 2017, Sadler left E! News after learning she was being paid less than her male co-host, Jason Kennedy — even though he started working at E! the same year she did (mega eye-roll). Though the network claimed it pays employees based on their roles and not gender, many people weren't buying it, and decided to express their opinions on the red carpet.
At the show on Jan. 7, in true feminist fashion, Eva Longoria confronted E! head on about Sadler's departure during an interview with Ryan Seacrest. She said,
With Time's Up, we support gender equity and equal pay, and we hope E! follows that lead with Catt, as well. We stand with you, Catt.
Meanwhile, Messing also addressed the issue during an interview with Giuliana Rancic. She said,
I was so shocked to hear that E! doesn't believe in paying their female co-hosts the same as their male co-hosts. I miss Catt Sadler. So we stand with her. That's something that can change tomorrow, you know. We want people to start having this conversation that women are just as valuable as men.
TBH, I couldn't have been happier to see a group of women stand in solidarity on a topic that is constantly overlooked and underappreciated. I mean, Catt Sadler could have been yesterday's news after her decision to depart from E! News, but these women stood up for her and let E!, and anyone else watching, know that they wouldn't let this issue go unnoticed — no matter how big or small. (My eyes may have watered, but that's neither here nor there.)
Even those who weren't on the red carpet took the time to shout out for Sadler.
Though unable to attend the event, that didn't stop Amy Schumer from sharing her love and support for the entertainment news correspondent. The Trainwreck actress posted a picture of Sadler to her Instagram page on Jan. 7, writing,
If you're on the carpet tonight or at home post in support and ask @eentertainment what happened? We thought you would be for pay equality and say #imwithcattsad.
A true friend, ladies and gentleman.
Actresses Julianne Moore and Brie Larson also took to social media to thank Sadler for speaking out against pay inequality.
Awww.
If I ever needed valid proof of why female friendships and support is so important, I just got it. Sisterhood is an unbreakable bond that gives women an outlet to share their problems, triumphs and feelings, and these women really just gave me the ultimate #FriendGoals in the middle of a critical issue. Can we be friends?