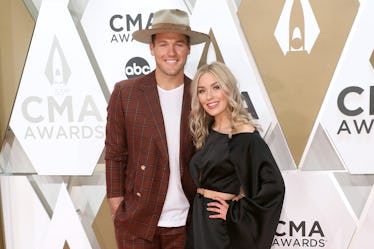 Cassie Slams Colton For "Monetizing" The Breakup & Going Back On His Word
Taylor Hill/Getty Images Entertainment/Getty Images
When Cassie Randolph and Colton Underwood first announced their split on May 29, things seemed pretty amicable between the two. A little over a month later, their promise to "stay friends" isn't seeming quite as likely. On July 9, the Season 23 Bachelor took to IG to reflect on their breakup, writing that "obviously a lot changed this week." Apparently assuming Underwood was alluding to her July 6 interview on The Bachelor: The Greatest Seasons Ever!, his ex fired back, and Cassie Randolph's IG Story about Colton Underwood "monetizing" their breakup is v harsh, guys.
Soon after Underwood posted his Insta, Randolph gave her two cents in a series of three Instagram Stories, which slammed her ex-boyfriend for going back on his word. She started off by stating that she does "not wish to create an online petty war," but she thinks Underwood's July 9 IG didn't respect their "agreement to not publicly discuss [their] breakup," an agreement which she feels she's honored. Randolph went on to explain that she gave the July 6 interview out of respect for the franchise, and she "purposely remained private and vague" while discussing the end of their year-and-a-half relationship.
She continued, "Colton, your last Instagram post saddened me, but also left me frustrated. It seems you are subtly engaging in a tactic that peppers in aggressive comments such as 'that obviously changed this week' in order to make me look like the bad one."
She requested that, going forward, Underwood would refrain from discussing their romance so as not to "cloud" their "great relationship" with a "messy breakup." Then the California native really spilled the tea. According to Randolph, her ex informed her on the night of her The Bachelor: The Greatest Seasons Ever! interview that he intended to "monetize" their split "by writing a new chapter to discuss [his] experience with COVID." (ICYMI, Underwood revealed on March 20 that he'd tested positive for the coronavirus, and he spent several weeks self-isolating with Randolph and her family in California before making a full recovery.)
"You have also refused to give me any sort of approval on the chapter you will be writing, which will heavily feature me... This seems a bit unfair to me," Randolph continued. "Colton, you can do what you want, but please do not have a double standard." The "new chapter" Randolph refers to is likely a future addition to Underwood's book, The First Time: Finding Myself and Looking for Love on Reality TV, which was published on March 31.
Randolph's final Story wished Underwood "nothing but the best" and expressed the hope they could "move forward in peace." A rep for Underwood later told E! News that Raldolph's accusations about her ex writing a new chapter for his book "are simply not true."
Sigh. So much for my hope of Randolph and Underwood getting back together. And as much as I'd love to read a new chapter in Underwood's book, I hope these two are eventually able to move on without any ill will.