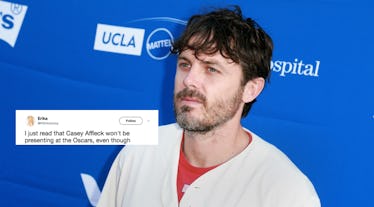 Casey Affleck Reportedly Won't Present Best Actress At The Oscars & Twitter Is Here For It
Leon Bennett/Getty Images Entertainment/Getty Images/Twitter
This year's 90th annual Academy Awards are going to be unique in so many ways, but one reason in particular was just announced and it's pretty big. According to The Hollywood Reporter, Casey Affleck will not present the Best Actress award at the Oscars and might skip the entire show. Yep, you read that right. Elite Daily reached out to Affleck's team for confirmation, but did not hear back by the time of publication.
It's long been Oscars tradition that the previous year's Best Actor presents the Best Actress award, and the previous year's Best Actress presents the Best Actor award. This year, if all goes to plan, Emma Stone will be presenting the Best Actor award to either Daniel Day Lewis (Phantom Thread), Daniel Kaluuya (Get Out), Gary Oldman (Darkest Hour), Timothée Chalet (Call Me By Your Name), or Denzel Washington (Roman J. Israel, Esq.). Affleck would be presenting the Best Actress award to either Sally Hawkins (The Shape Of Water), Frances McDormand (Three Billboards Outside Ebbing, Missouri), Saoirse Ronan (Lady Bird), Meryl Streep (The Post), or Margot Robbie (I, Tonya). But reportedly, Affleck will not follow suit, and he might not even attend the show at all.
Affleck won the 2017 Oscar for his performance in Manchester By The Sea. His win was met with some controversy, since allegations of sexual harassment on the set of his 2010 movie I'm Still Here had come back into the spotlight. (Who could forget Brie Larson's reaction to his win?)
According to TIME, two women filed sexual harassment suits against Affleck, one of whom claimed Affleck "crawled into bed with her without her consent while she was asleep." The second woman claimed Affleck pressured her into staying in his hotel room with him, and when she refused, he "grabbed her arm" to try to intimidate her. Elite Daily reached out to Affleck's team for comment on the 2010 suits, but did not hear back by the time of publication. Affleck's attorney told People at the time of the complaints, "The complaint will be vigorously defended and cross-claims will be filed." However, they ended up settling out of court and no other claims were filed.
In 2016, the allegations resurfaced, and Affleck emailed a statement to The New York Times. It read, "It was settled to the satisfaction of all. I was hurt and upset—I am sure all were—but I am over it … It was an unfortunate situation—mostly for the innocent bystanders of the families of those involved."
In the wake of the Time's Up and Me Too movements, Affleck not presenting the award would be especially important. According to TMZ, Affleck "wants the attention to be focused on the nominees and doesn't want his presence to impact the winner's special moment." It'd be hard to disagree with that explanation. The two movements have been huge throughout the entire awards season, with actors and actresses donning black at the 2018 Golden Globe Awards and bringing activists as their dates, and the recent news that artists will wear white roses to the 2018 Grammy Awards. A new group called Voices of Entertainment was created this week to start the white rose push, and celebrities like Kelly Clarkson, Dua Lipa, Halsey, and Rita Ora have reportedly expressed support.
People on Twitter didn't hold back on their opinion of the reports on Affleck, and they're happy Hollywood is finally making these changes.
So, who would be presenting the award in Affleck's place? Well, that hasn't been reported yet, but I can't wait to find out who it could be. The 90th annual Academy Awards will take place on March 4 at 8 p.m. ET on ABC.