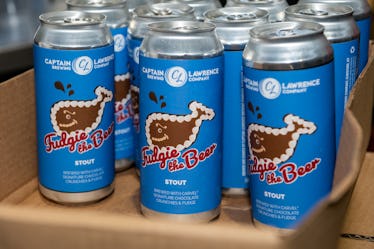 Carvel Released Beer That Tastes Like Fudgie The Whale & I'll Drink To That
Carvel
I grew up celebrating my birthday with a Carvel ice cream cake almost every year. As a summer babe, boasting a yearly Fudgie the Whale cake was basically a right of passage. And really, how can anyone resist that melty, gooey chocolate ice cream with those irresistible little chocolate crunchies in the center? Those cakes were the focal point of any lit birthday celebration back in the day. Anyway, if you're looking for a boozy treat to accompany your Fudgie the Whale cake this summer, you'll definitely want to try Carvel's "Fudgie the Beer." In the words of Grown Ups, "I want to get chocolate wasted."
Just in time for my birthday (and I suppose for Father's Day as well), Carvel Ice Cream is introducing a new treat to any and all 21-and-over Fudgie the Whale fans. According to a press release, the ice cream shop partnered with Captain Lawrence Brewery in Elmsford, New York to create a limited-edition Fudgie the Whale-inspired beer, known as "Fudgie the Beer." It seriously sounds like a dream come true.
If you haven't already tried it, Fudgie the Beer is a super rich and chocolatey stout, strongly resembling the taste of Carvel's nautical ice cream cake. It's available for a limited time at Captain Lawrence Brewery, sold in 4-packs of 16-ounce cans for $18 (it will also be available on draft). Sadly, I haven't yet gotten the chance to knock back a pint, but it's safe to say that I'll be needing these to properly ring in my birthday this summer. I can definitely see a few Fudgie the Beers in my future.
If you do find yourself at Captain Lawrence Brewery in the near future, they'll also be serving a boozy Fudgie the Whale float. According to a press release, the float is made with Fudgie the Beer stout, as well as actual Fudgie the Whale cake, chocolate syrup, and of course, whipped cream. The bottom line is that it's guaranteed to calm any and all of your sugar cravings — and honestly, I need this immediately. I mean, just look at her. Ain't she a beaut?
It really is a sight for sore eyes. But if you can't get to the brewery anytime soon, the ice cream shop has graciously shared their recipe for the Fudgie the Float in a press release, which is shown below. So get out your apron and chef hat, because you're about to concoct your new favorite summer cocktail.
Start out by blending 12 ounces of stout and 4 cups of Carvel Fudgie the Whale cake in a blender. (But, take note: adding too much beer will make the shake super watery!)
Add Carvel chocolate crunchies to the rim of the glass for a little extra crunch.
Pour the beer and cake mixture into your chocolate crunchy-rimmed glass.
Top the shake with whipped cream, as well as chocolate syrup.
Sip and share with all of your friends. The recipe serves approximately four people in 10-ounce cups, so start pouring.
Fudgie the Beer and Fudgie Floats both sound positively magical, and it's clear that I'll be serving both at my birthday party this summer. And even if you're not planning on hosting any major throw-downs, both beverages are perfect as a BBQ treat, for your own rooftop happy hour, or even for you to enjoy alone in your bed (which I really like the sound of). This is making me realize that I definitely need more chocolatey, boozy drinks in my life, and I'm getting ready for an entirely new era of drinking. Drink responsibly!