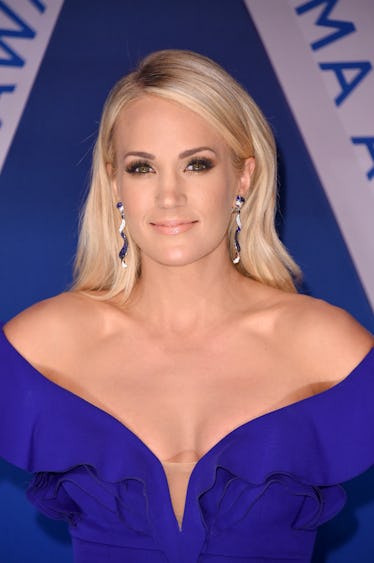 Carrie Underwood Opens Up About How Her Face Is Healing After Her Major Accident
Michael Loccisano/Getty Images Entertainment/Getty Images
For anyone who's been worrying about Carrie Underwood, it's time to take a nice, deep breath. On New Year's Day, Underwood told fans that back in November, she slipped outside her Nashville home and had a terrible fall. She also revealed that her accident had left her with a broken wrist and up to 50 facial stitches, which is beyond frightening. But now, Carrie Underwood's face update is extremely positive, which is such a relief for the American Idol winner and her fans.
On April 10, Underwood took to her website to let the world know how she's been recovering. The letter, addressed to her fans, said that there has been "lots of exciting stuff happening" that she wanted to share. She wrote:
My wrist is almost back to normal, about 90% there...and the docs say that last 10% will come in time. And my face has been healing pretty nicely as well. I definitely feel more like myself than I have in a while.
You hear that, world? Our girl Carrie is going to be back to her normal self in no time. She continued to talk about how this accident definitely had a few "silver linings," one of them being more time spent with her family. She wrote:
One of the silver linings for me in this healing process is the time I've gotten to spend with Mike [Fisher] and Isaiah [Fisher]. I've been calling it 'forced relaxation.' Sometimes I think things happen in order to make us slow down.
As if I didn't love Carrie enough as it is, she has to go and say all of those sweet and empowering things. God bless.
Underwood hasn't kept her fans in the dark about her accident at all — in fact, she's done quite the opposite. While back in November of 2017 she simply told her fans that she hurt her wrist and left out the details about her face, she ultimately decided to let fans know that her injuries were worse than she was letting on. Underwood bravely opened up about the fall in January with a post on her fan club's site and explained how she's rising above her accident. She wrote:
There is also another part of the story that I haven't been ready to talk about since I have still been living it and there has been much uncertainty as to how things will end up. It's crazy how a freak random accident can change your life. In addition to breaking my wrist, I somehow managed to injure my face as well. I'll spare you the gruesome details, but when I came out of surgery the night of my fall, the doctor told [Underwood's husband] Mike that he had put between 40 and 50 stitches in.
She continued,
I honestly don't know how things are going to end up but I do know this: I am grateful. I am grateful that it wasn't much, much worse. And I am grateful for the people in my life that have been there every step of the way.
Underwood also said that she was "determined to make 2018 amazing" regardless, and that she wanted to let fans know why she might look a bit different once she is "ready to get in front of a camera."
And it looks like that time might be sooner rather than later (YAY!), because a post of Underwood's Instagram shows that she's been working on some pretty big things during her hiatus, like making new music (DOUBLE YAY!). Here she is giving a sneak-peak of what's to come:
FAM, I AM BEYOND EXCITED.
In her updated letter to fans, she mentions that she's been working on music, adding that she's "been able to be creative in a way that I've never been before" and that she and writer/producer David Garcia are co-producing her album, marking this as the first time that she's going to be involved with the actual production of her work.
While Underwood wrote that it's been both "challenging and incredibly rewarding to be involved in every aspect from start to finish," all I know is that she's got millions of proud fans rooting her on.
Carrie, you can literally do no wrong in my eyes. I can't wait to hear what you've been working on, and can't wait to see what else 2018 has in store for you.
Love you, girl!