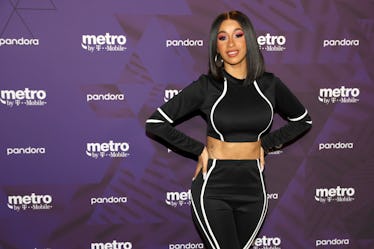 Cardi B's Video Tour Of The House She Just Bought Her Mom Will Make You So Emotional
Joe Scarnici/Getty Images Entertainment/Getty Images
This might be weird, but the times when I've daydreamed about becoming really famous or rich I always imagine buying my parents a house and then flying all of my friends to someplace exotic. Apparently, it's a dream I've unknowingly shared with Cardi B. Well, at least the first part. The rap queen just purchased her mom a home and is so, so excited that she shared the big reveal on social media. Cardi B's video tour of the house she bought her mom is emotional, touching, and has me shouting "Yes, yes, yes!" Unsurprisingly, the home is totally stunning, too.
Cardi B jumped on Instagram late Monday night, Nov. 19, to post a video of herself walking through the impressive property. As she strolls by the gorgeous kitchen, massive staircase, multiple bathrooms, indoor movie theater, gym, and furnished basement, she explains how it's been her dream to find her mom a proper home. She also talks about how hard it is to find a large/nice property in New York considering it is so expensive. (As someone who currently lives there now, I can confirm she's right.) Cardi B mentions $600,000 dollars gets you "sh*t" in New York. Truthfully, you could probably find a 600-square-feet studio at that rate in Manhattan. It's no joke.
Instead, Cardi B talks about how she was patient and waited until her finances were in order to buy her mother the house of her dreams. She also tells her fans how emotional it's been to go through the buying process and that she's happy to know when her daughter visits her grandmother's house "she's gonna come here." Cardi B added, "I can't wait for all my family to come here. Thanksgiving. So happy."
Cardi B's caption reads:
Stay down till you come up !Its always been a dream to buy my mother a house .Last year i was so thirsty to buy my mom a house but the ones i was interested for her weren't at my price range .I worked and worked and now I'm here !! Thank you everybody who supported me to make my childhood dreams come true! Buy my momma a house !!.....don't ask me for sh*t motherf*ckers i got big girls bills 😩😩!
You ready for this?
BAM. That's a house, yo. I want to have my Thanksgiving there!
No matter how you look at it, 2018 has been a totally transformative year for Cardi. She announced her marriage to husband Offset, delivered her first baby Kulture Kiari Cephus, and released her hit Invasion of Privacy album. This woman has totally leveled up in every aspect of her life.
While I can't imagine how it actually feels to be in Cardi B's shoes, I can imagine winning the lottery and going house-hunting with my parents. Maybe one day I'll become a famous rap artist, too, and can afford a mansion for my future baby to run around in over the holidays.
A girl can dream, right?
Congrats Cardi B and Cardi B's mom! Party at your place?