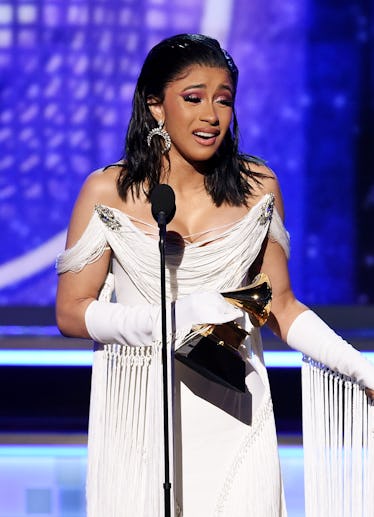 The Moment Kulture Said "Mama" For The First Time After Cardi B's Grammy Win Is So Sweet
Kevin Winter/Getty Images Entertainment/Getty Images
Cardi B had a bit of a night on Sunday. The rapper not only took home the Grammy for Best Rap Album at the 2019 Grammy Awards on Feb. 10, but she also heard her daughter call her "mama" for the first time when she got back home. And Cardi B's video of Kulture saying "mama" for the first time ever is literally a giant ball of joy packed into a 10-second video.
Cardi's post-Grammys night was all about celebrating. She was getting all the joy and posting about it all on her Instagram all night. After winning Best Rap Album in the category in which she was the only woman nominated, Cardi posted a video of her celebrating backstage with Offset, her sister, and her team.
She posted a video of them all celebrating on Instagram and said in the caption, "Thank you @yg @sza @21savage@chancetherapper @jbalvin @badbunnypr@migos @kehlani !!!" The names she listed in her caption are those of the musicians who were featured on Invasion of Privacy. She also dedicated the win to the late Mac Miller, whose Swimming was also nominated for Best Rap Album.
"I read an article that Mac Miller's family said that if he don't win, they want me to win," she said in the video, "so I'm sharing this Grammy with you, motherf*cker! Rest in peace!" She stayed out and celebrated a bit longer after the show, according to her Instagram story, then she finally made it home to see her daughter, 7-month-old Kulture.
When she got back, she shared the sweetest video ever. In it, Cardi and her sister are trying to get Kulture to say "mama" for the first time, and she does it!
"After a week of only saying papa !She saying mama!" Cardi said in the caption of the post. "Happy 7 months Kulture ! We love you @offsetyrn@hennessycarolina@melo9.11"
The video shows Kulture (whose face is covered by an emoji) sitting in a bouncy seat next to her auntie and across from her mom. When she finally says "mama," Cardi starts to cry and turns the camera to her to show her excitement. It's a really sweet moment at the end of a great night for Cardi.
Cardi B made history at the Grammys last night as the first female solo artist to win Best Rap Album. Lauryn Hill and the Fugees won the award in 1996, but it's been a man every other year since.
She brought Offset on stage with her (guess they're back together, maybe?) and said to him in front of the mic, "Babe, I can't breathe."
"Oh my goodness, um....listen, I'm sorry, I just, wooo, the nerves are so bad," she said. "Maybe I need to start smoking weed."
She continued to thank everyone who worked on the album, both featured artists and those just behind the scenes. Then she gave a big thank you to her daughter.
She said,
I want to thank my daughter Kulture...I'm not just saying thank you because she's my daughter. It's because, you know, when I found out I was pregnant, my album was not complete. I had, like, three songs I was for sure having. And then you know how it was: We was like, We have to get this album done so I could shoot these videos while I'm still not showing. And it was very long nights.
She went on to thank the featured artists as well as Offset.
I want to thank all the artists in my—I'm sorry, I don't got [time]. I want to thank all the artists that took their time and did verses for my album. You, husband, thank you. Nah, seriously, 'cause he was like, you're going to do this album, girl. We're gonna have this baby, and we're gonna make this album. And thank you so much, everybody.
And then she goes home and hears her daughter call her mama! What a night.