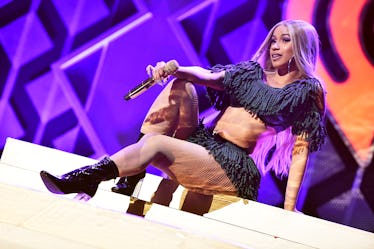 Cardi B Rapped About Her Divorce & OMG You're Gonna Wanna Watch This
Theo Wargo/Getty Images Entertainment/Getty Images
While 2018 has really been the year of the whirlwind romance, it has also had its fair share of breakups. Most recently, the love-killer that is the year 2018 happened to strike one of the hottest couples in the rap game, Cardi B and Offset. And now — just a few short days after announcing their split — Cardi B rapped about divorcing Offset, making it extra clear to fans that she and her former flame are done. Like, for real.
When performing the song "Motorsport" at Chicago's Jingle Bash on Saturday, Dec. 8, Cardi B decided to switch up some of the lyrics to reflect her new relationship status with the Migos member.
For those of you who are unfamiliar with the song, Cardi B has a verse on it alongside Nicki Minaj and Mijos. (Offset was not performing on Dec. 8.) One lyric serves as a shout-out to her sex life: "I get up set off. I turn Offset on. I told him the other day. Man, we should sell that porn."
Instead of rapping that line the way it normally goes, she decided to switch things up singing, "I get up set off. I turn Offset on. I told him the other day, yeah, we gon' get a divorce!"
No, seriously. She actually did that in front of a giant crowd of people and I have the video to prove it right here:
Now, of course, this wasn't the first time Cardi B publicly acknowledged her divorce from Offset.
She originally shared the news with her fans last week on Instagram with a video in which she maturely and respectfully explained the current state of their relationship by saying:
Everybody been bugging me and everything and you know I've been trying to work things out with my baby father for a hot minute now and we're really good friends and we're really good business partners and he's always somebody that I run to, to talk to and we've got a lot of love for each other... but things just haven't been working out between us for a long time and it's nobody's fault, it's just like I guess we grew out of love. But we're not together anymore. I don't know, it might take time to get a divorce and I'm gonna always have a lot of love for him because he is my daughter's father and yeah.
Her ex, on the other hand, doesn't quite seem to be quite as at peace with the news as Cardi B is. In fact, he's so not cool with the split that he took to Twitter to announce, "F**K YALL I MISS CARDI."
I have a feeling Cardi B probably enjoyed seeing the tweet given the fact that she's rapped about how she likes getting texts from her exes when they want second chances. (In her song, "I Like It," she raps: "I like texts from my exes when they want a second chance.)
Who knows. Maybe Cardi B will give Offset a second chance. Or maybe she won't. Either way, it's her prerogative. As long as they're happy, I'm happy!