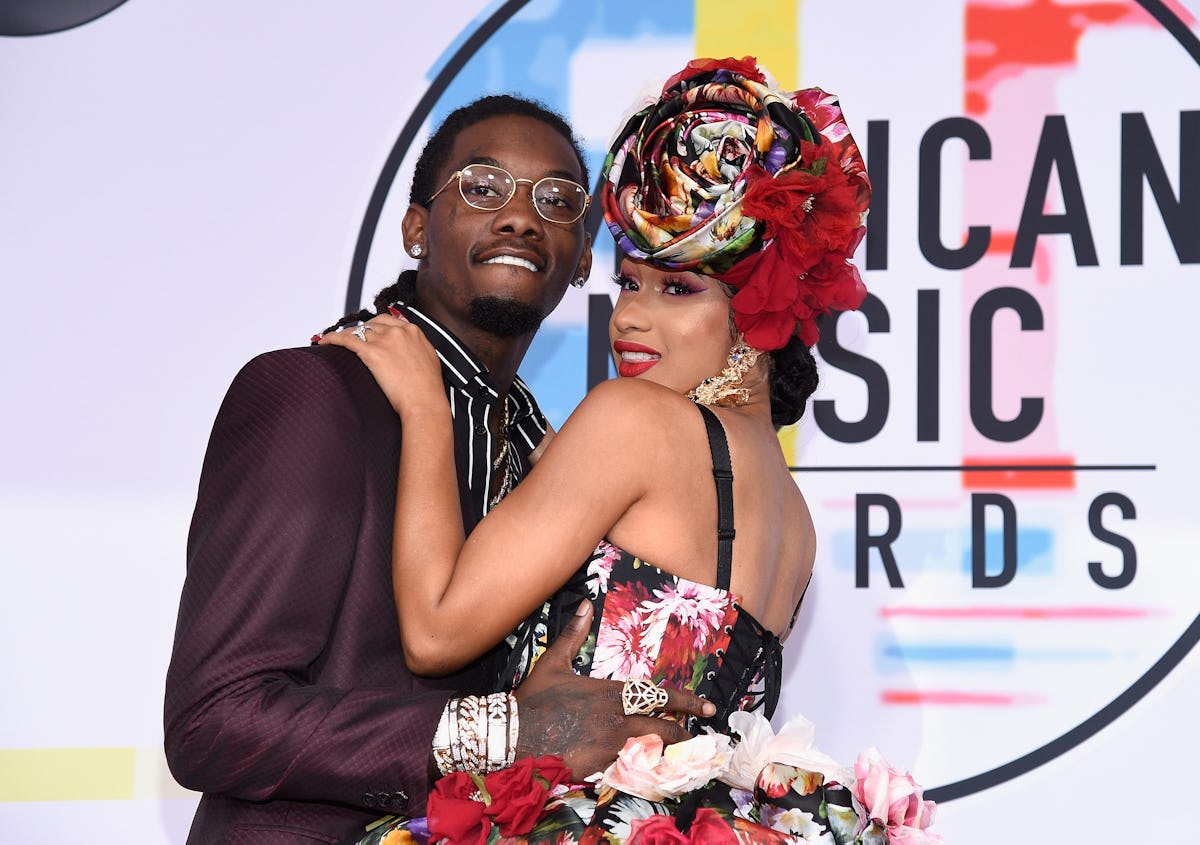 Cardi B & Offset Couldn't Stop Gushing Over Each Other At The AMAs
Kevork Djansezian/Getty Images Entertainment/Getty Images
Cardi B and Offset are at the American Music Awards together and they are beyond adorable! Not only did they walk the red carpet together, but the husband and wife duo were super supportive of one another throughout the awards ceremony. And they were stealing everyone's hearts while they're at it! So, here are all of Cardi B and Offset's cute moments at the 2018 AMAs because... who can resist reveling in the happiness of such a cute couple?
Cardi and Offset, who've been married for just about a year, are doing everything they can to make the world smile right now. When Cardi won her award for Favorite Rap/Hip-Hop artist, Offset was watching in awe of his wife as she gave her acceptance speech. She even gave him a little shout out and he was all smiles.
And he was especially enthusiastic when Cardi took the stage to perform "I Like It" alongside J Balvin and Bad Bunny. Offset was dancing in the audience as Cardi was dancing on stage. They both were clearly having a great time and Offset was being so supportive, which is really sweet.
This is how Offset looked during Cardi's incredible performance. He's so into it and its so cute!
Cardi has been equally enthusiastic about her husband's success. When he and the guys of Migos won the award for Favorite Pop/Rock Duo or Group, Cardi went wild in the audience.
This is what she looked like when Offset's group was announced as the winner:
She looks happier for him than she did for herself when she won! But it's just so darn cute how much they love and support each other. That is true love. No doubt about it.
Oh, and Offset also gave Cardi a shout out during his acceptance speech as well, and Cardi quite literally melted in the audience. I mean, look at her:
She is just so proud! And in love! And it's too adorable for words.
How can you not love them together? They seem to fit each other perfectly and the love that radiates from them both is amazing.
Cardi and Offset married back in September 2017 and welcomed their daughter Kulture in July 2018.
In a recent interview with W Magazine, Cardi opened up about her life with Offset. "When I got married with my dude, we still had a lot of doubts, because our relationship is not like everybody's," she told the publication. "He was always traveling, and I was always traveling. We're artists. So I used to see him, like, twice a week, and, you know, he's known for having different women, and I'm known for, like, not taking sh*t from guys. But we really loved each other, and we was scared to lose each other."
Wow, that really sums up everything going on at the American Music Awards. Literally everything they do is rooted in this pure love they have for each other and that's such a beautiful thing! I hope they continue to be as adorable as they are right now!