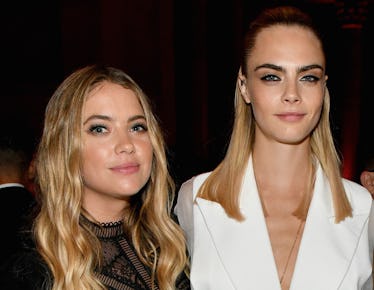 Cara Delevingne Confirmed Her Relationship With Ashley Benson For An Important Reason
Craig Barritt/Getty Images for The Trevor Project
Cara Delevingne and Ashley Benson are officially official. The two actors have been rumored to be dating each other for about a year now, but they didn't confirm the rumors until June 14, when Delevingne posted a video of them making out to her Instagram. The couple made an appearance at the TrevorLIVE Gala on Monday, June 17, where Delevingne was being honored with the Hero Award, and while on the red carpet of the event, they revealed why they chose now to confirm their relationship to the public. And Cara Delevingne's reason for confirming her relationship with Ashley Benson is making this queer girl emotional!
Delevingne and Benson co-starred in the indie film Her Smell, released in April 2019, and their relationship is rumored to have kicked off while filming in 2018. The two have posted pictures of/with each other on their Instagrams over the last year, so it's not like they've been hiding things, but Delevingne's June 14 post made things official.
She posted a clip from Her Smell to her Instagram that showed her character (Crassie Cassie) pulling Benson's character (Roxie Rotten) in for a kiss. I'm not going to sugar coat it: The video is hot.
Delevinge captioned the post, "#PRIDE 🌈❤️😍🌈❤️😍 @ashleybenson," Benson commented with some heart emojis, and that was that. DeleBenson is official!
Speaking with E! News, the actress and model opened up about why she and Benson chose now to confirm their romance, and her response was very fitting for the red carpet of The Trevor Project's TrevorLIVE Gala. (The Trevor Project, for those who don't know, is a non-profit organization that focuses on suicide prevention efforts for the LGBTQ+ community.)
"I don't know because it is Pride, it's been 50 years since Stonewall happened and I don't know. It's been just about our one year anniversary so, why not?" Delevingne said. Ugh, my proud little heart! Delevingne told the outlet that posting the video of her and Benson was just "a little something" she could do to show her pride this year.
To make you swoon even more, Delevingne seemingly gave Benson a shoutout in her speech at the gala.
"I also have another very special woman in this room to thank and you know who you are," the model said during her speech. "She's one of the people who help me love myself when I needed it most and I really needed it. She showed me what real love is and how to accept it, which is a lot harder than I thought." Can you feel the gay-as-hell love tonight?!
I said, can you feel it?
Benson was with Delevingne at the gala on June 17, posting videos of the night to her Instagram story. She posted a video of Delevingne's speech saying, "Love you @caradelevingne Proud of you @trevorproject" in the caption, and also posted a video of the singing performance the model did.
I don't know about y'all, but I am very pleased that these two confirmed their relationship. And right in the middle of Pride! You just love to see it.