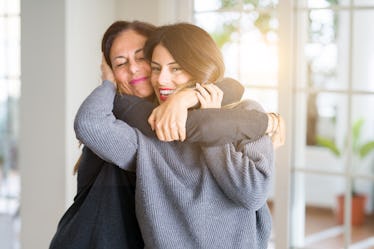 Your Mom Can Be An Incredible Mom, But Also Your Best Friend In These 10 Ways
Even if you've never seen Mean Girls before, you know that some moms aren't just regular moms — they're "cool" moms. A cool mom is someone who is not just a guardian and parent, but a role model, confidante, and travel buddy all rolled into one. You love your mom endlessly, but can your mom be your best friend as well? As someone who considers her mom a BFF, I'll be the first to say, "Yeah!"
Each and every mother-daughter relationship is different. Some people might consider themselves a Rory and Lorelai from Gilmore Girls, while others are more of a Lane and Mrs. Kim vibe. These are both unique relationships, but with a Rory and Lorelai, there's a special bestie bond that cannot be denied. If you're wondering if you and your mom have this special connection, it's very easy to determine. You just have to check if your mom does any of these 10 things with you. If she does, you know instantly that you have the best friendship connection in there as well.
Honestly every day is the best time to spoil your bestie mom with all the love and attention. Always be thankful that your mom is your number one for life.