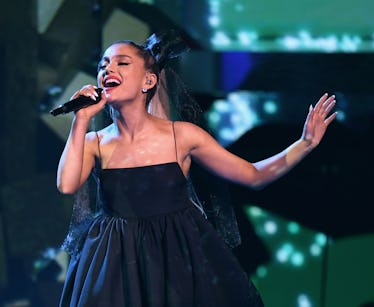 Ariana Grande Fans May Be Upset With This One Thing About Her BBC Special
Kevin Winter/Getty Images Entertainment/Getty Images
Ariana Grande fans are in for a real treat later this week! On Thursday, Nov. 1, BBC One will air a one-hour special of Grande singing all her latest hits and sharing some behind-the-scenes info about her creative process. While Grande fans in the UK will basically have front row seats (in their living room, of course!) to the special, fans in the United States may not be so lucky. And that's leaving fans with some questions about how to watch Ariana Grande's BBC special.
Since BBC One's iPlayer isn't available in the U.S., you'll have to wait until the special airs stateside. And unfortunately, a U.S. air date hasn't been officially announced just yet, so you might be waiting to see the special for a little while. Elite Daily reached out to Grande's team to see if a U.S. air date would be announced soon, but did not hear back by the time of publication.
Grande announced the special on Oct. 18 on Instagram. In the post, she revealed the air date for her special and thanked those who made it possible.
"UK babes, I'm excited to announce that my BBC special we shot in London will be airing on Nov 1 at 8pm on @bbcone 🖤," Grande wrote in her Instagram post. "thank you to my band, my MD @_natural__, our background singers, incredible conductor steve sidwell, and this stunning orchestra (all girls, werk) i had the honor of performing wit. i loved these arrangements so much. thank u to my babes in the audience who made this such a fun, comfortable experience. miss u."
The special will include a full choir and all-female orchestra, both providing fans with special versions of Grande's biggest hits. According to People, Grande told BBC in an interview that working with an orchestra was a "dream come true" for her.
"It's such a dream come true," Grande said in the interview. "Strings are like my favorite thing in the whole entire world." Of her all-female orchestra, Grande said, "I'm spoiled now, I can't go back!"
In her interview with BBC, Grande also revealed that she takes great pride in being a role model to young girls and strives to be as authentic as possible.
"If I'm going to be a role model, the last thing I should be is perfect because that's not realistic," she said. "As long as I'm honest and genuine and I share with my fans my truest self, that's the best that I can do because that's allowing them to do the same thing."
By all accounts, Grande's interview and accompanying special with BBC will provide a lot of interesting insights and revelations about the singer. So, fans should definitely be on the lookout for both. And for all you Grande fans in the United States, I guess you'll just have to sit tight and wait until BBC decides to air the special in the States. Given how popular Grande is, I have a feeling the one-hour special will be coming your way a lot sooner than you probably expect.