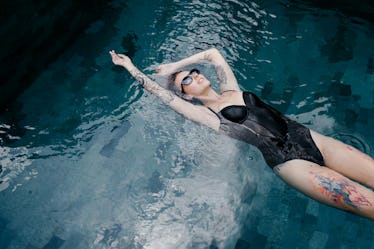 How To Take Care Of Your Tattoos While You're Soaking Up The Sun This Spring Break
For those of you who beat the cold weather blues this winter by getting inked up, you might just be wondering as we inch closer to spring break, can you tan with a tattoo? Or is that like, a total no-no? Since spring break vacays are famously filled with airports, far-off destinations with friends, a few umbrella beverages, and yes, sunshine, it also means your new ink needs extra special care and protection — a priority that definitely needs to be at the top of your to-do list before you embark on your trip.
While you can, indeed, do just about anything with a tattoo these days, you do have to be extra careful with your ink in the sunshine. Believe it or not, the sun can actually fade the ink, not to mention the skin itself is a bit more sensitive to sun damage of any kind after the fact.
Now, don't let this deter your from your much-needed opportunity to seek warmer pastures and a little vitamin D this spring break. Just know that, along with enjoying the light and warmth, you simply can't forget to keep your skin protected from UV rays. Tattoos or not, sunblock is a must, OK?
Here's what you need to know about safely caring for your ink while you get yourself to the beach this spring break.