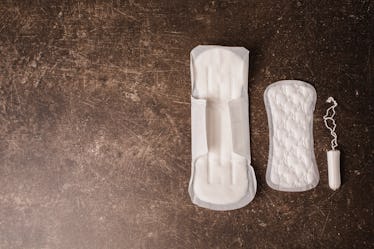 4 Things You Should Know Before You Go To Bed Tonight With Your Tampon In
Shutterstock
Sleeping with a tampon in is often equated to other self-destructive decisions we all may or may not be guilty of making in life, like texting while driving or drinking coffee at night. If you do it, bad things will happen to you — or, at least, this is what we have been led to believe. There are certainly health risks to consider whenever you keep a tampon in for longer than about nine hours, but can you sleep in a tampon overnight without cause for concern?
The main reason people worry about sleeping with tampons in is because of the fear of contracting toxic shock syndrome (TSS), which is a rare, life-threatening disease that is most commonly associated with women who leave tampons in for too long. In truth, TSS is a bacterial complication of strains of staph, which already have to be in your body in order for it to manifest. According to Mayo Clinic, the bacteria finds a home within a bloody tampon, which is why incidences of TSS dropped substantially when manufacturers pulled super absorbent tampons off the market, therefore forcing women to change their tampons more frequently.
Even if you keep a tampon in for too long, you would also need to have the strains of staph present in your system for TSS to occur. This is why it's way less important to worry about sleeping with a tampon in, and way more important to think about it as a constant awareness of how long you're keeping your tampon in in general.
The connection between sleeping with a tampon and contracting TSS may be slightly overblown, but that doesn't mean you should throw a tampon in every night and cruise into a 13-hour slumber. Here are four things to keep in mind before you go to bed with a tampon in.