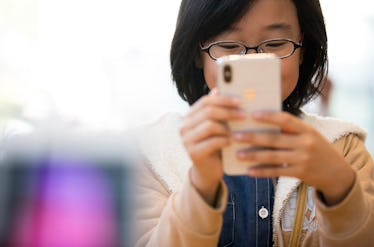 Sending Animojis From iPhone 7 Is Impossible, So Now Might Be A Good Time To Upgrade
Tomohiro Ohsumi/Getty Images News/Getty Images
Just in case you didn't realize the world stopped spinning on Nov. 3, it's because the iPhone X arrived at last. Along with the phone's debut came many exciting new features, Animojis arguably being the most anticipated of the bunch. Now that this option allows your favorite characters to come to life, you might wonder if you can send Animojis from the iPhone 7, and, well... there's a lot to know.
Let's back up and start from scratch. The iPhone X promised to do away with a home button and instead use facial recognition tools for users to access their devices. Rather than tap, you just need to sit there and look pretty, and Apple will do the rest. Gone are the days where you need to punch in a multi-numbered code. (Pretty spiffy, huh?)
But this powerful feature doesn't just allow you to unlock your phone. Thanks to Face ID, you have the option to take one of your favorite emojis — the panda, the rabbit, the dog — and have it mimic your facial expressions. It's guaranteed to take your texting game to a whole new level.
So here's how to rock n' roll Animoji style on your new iPhone X if you want that cute little animal to be just as happy as you are.
Go into your messages and decide who will be the lucky recipient of your Animoji — a decision that shouldn't be taken lightly. After you've chosen a text message strand to send your BFF or SO, select "Message Apps," which is a small blue icon that looks like an "A." It'll be situated next to your camera to the left of you iMessage box. Next, select the Animoji icon. Then the fun begins: Pick a favorite animal, record your expressions for 10 seconds, and send that bad boy on its way.
If you're experiencing a severe case of FOMO with an iPhone 7, here's what you need to know.
To answer your question, no, you cannot send an Animoji from Apple's iPhone 7. It's sad, I know.
Although you technically cannot send an Animoji from an iPhone 7, Animojis can be shared via iMessage between any iOS and Mac devices, so non-iPhone X's aren't missing out on the fun. (In other other words, if you have an iPhone 7, you can receive Animojis... you just can't make or send them.)
If you have an iPhone X, you can also send Animojis to your friends who have phones that aren't running on iOS or Mac via MMS. You can even send your Animoji as a .MOV file if you save your Animoji to your camera roll. If that's sounding a little technical, you can simply send your Animoji as a sticker.
To send it as a sticker on the X, you must follow the same steps you took when accessing the Animojis in the Message apps. Think of a funny face, hold down your Animoji of choice, and drag it to the text bubble once its locked. Then voila! It's all set and ready to go.
If you're too overwhelmed by the number of animal options to bring to life, you can always opt for a high-end photo with the new iPhone X camera. It's basically the closest thing to a DSLR in smartphone form. Portrait Mode on the iPhone X is going to take your selfies to new heights, so get ready to strike a post Portrait Lighting is a feature that enhances Portrait mode with five lighting options: Natural Light, Studio Light, Contour Light, Stage Light, and Stage Mono Light. Options abound and there's no telling how you're going to style that #OOTD now.
There's definitely a lot to appreciate about this new device, and surely communication will experience a whole new wave of meaning. Here's to the future of Animojis.
Check out the entire Gen Why series and other videos on Facebook and the Bustle app across Apple TV, Roku, and Amazon Fire TV.