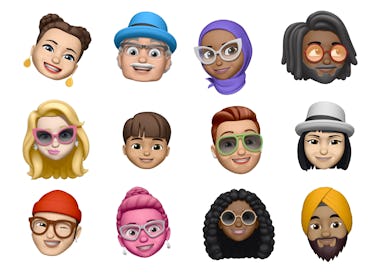 If You Have An iPhone X, Prepare To Have Fun With This Animated New Feature
If you somehow manage to keep up with all of Apple's latest endeavors, you probably heard a thing or two about the three new iPhones as well as the latest and greatest software update, iOS 12. Aside from bringing users a ton of sick features like Group FaceTime and Screen Time, iOS 12 offers users the ability to make Memojis, which are essentially talk-as-you-talk, do-as-you-do cartoonized versions of yourself. So, you might be wondering if you can make a Memoji with the iPhone X, or if it's totally exclusive to the three newest phones. Well, if you are an X user, I have some stellar news for you.
After the concept of iOS 12 was announced earlier in June 2018, it was officially launched on Wednesday, Sept. 12. Along with high-tech privacy settings and improved loading speeds, the introduction of iOS 12 brought users the glorious gift that is Memoji. It creates personalized, do-as-you-do cartoon versions of yourself, and using it is super simple. To use Memoji, though, your phone must include the TrueDepth camera, which comes with the iPhone X, XS, XS Max, and XR. So, if you do have an X, you're in luck — Memoji should work for you. If you happen to have an older phone, you can still receive Memoji videos — you just can't create them on your own.
If your phone does come with the highly sought-after TrueDepth camera, you can make your own Memoji by opening up a text message, and clicking on the Animoji logo. Then, click the "+" button, which is adjacent to your current Animoji. This will allow you to create your own Memoji. After selecting the features that best show off your style, hit "Done," and your Memoji will automatically save. From there, you'll be able to "do" and "talk," as your Memoji "does" and "talks." It's a pretty fun feature, and the best part is that you can send it over a variety of messaging platforms, including both iMessage and FaceTime. Pretty awesome, right?
If you're looking to upgrade your phone to one of the newest versions, however, the iPhone XS's "Depth" photo feature is really awesome for taking high-quality pictures. It optimizes the focal point of the image by blurring out everything else, and it allows you to alter it however you'd like. So, to take advantage of this dope new feature, take a photo and navigate to the Photos app. Then, tap the edit button, and you'll see a slider which adjusts the depth of the photo. It's really simple, and it makes for some gorgeous selfies, if I do say so myself.
Since Memoji only works with TrueDepth camera, you're good to go if you have the iPhone X, in addition to any of the other three new models. It's a super fun way to stay in touch with your friends. So, if you aren't able to use it, now might be time to upgrade. You have a ton of TrueDepth phone options, so get out there, do some research, and get that Memoji ready to rumble.