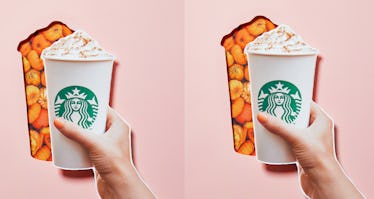 Here's How To Order Your PSL As A Chilled Fall Sip To Help You Beat The Heat
Starbucks' Pumpkin Spice Latte is back earlier than ever before this year. The PSL made it's debut on Tuesday, Aug. 28. With many temperatures across the country still breaking 90 degrees, a hot Pumpkin Spice Latte may not sound all that appealing to you. (I don't blame ya.) If you're pining for a taste of fall — but don't want to sweat while you sip — you're probably wondering, "Can you get an Iced Pumpkin Spice Latte at Starbucks?" The good news is that you can. Here's how to order.
The start of fall may be less than a month away, but Starbucks' Pumpkin Spice Latte is already back on menus. (The fall equinox is on Saturday, Sept. 22, but hey, who's counting?) Upon its August release, PSL lovers rejoiced and were quick to order the fall-inspired beverage despite the hot weather. But not everyone was feeling the early return of the PSL, mostly due to the overwhelming heat that's still sweeping across most of the nation.
You don't need to shy away from ordering a Pumpkin Spice Latte because of the heat, though. There's a way you can order it that will keep you cool even when the heat index is up around 100 degrees. Instead of asking your barista for a classic hot Pumpkin Spice Latte, ask for it with ice — it's that simple. There's even an Iced Pumpkin Spice Latte on the official Starbucks menu.
It can be easy to get in the habit of just ordering the usual PSL, but ordering an iced version of the sip is the way to go. I live in Florida, also known as the Sunshine State, where very rarely does the temperature drop below 60 degrees. An Iced Pumpkin Spice Latte is the only way I'll be ordering my PSL for the next several months.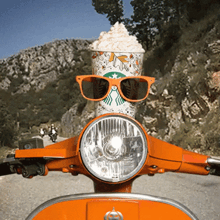 The Iced Pumpkin Spice Latte from Starbucks is just as good as it's hot counterpart. It's the same familiar recipe you know and love. The Iced Pumpkin Spice Latte is made with espresso, milk, and is combined with the flavors of pumpkin, cinnamon, nutmeg, and clove, according to the Starbucks website. Instead of serving the drink hot, your barista will pour it over a cup of ice for an icy cool treat. It's actually pretty refreshing, too. Oh, and it's still topped with whipped cream and a sprinkle or two of pumpkin pie spice.
The Pumpkin Spice Latte really is a versatile drink that knows no bounds. In addition to ordering it iced, it also comes in Frappuccino form. The Pumpkin Spice Frappuccino Blended Crème doesn't contain any caffeine, but it is totally delicious (and worth it if you're out there sweating the day away). The icy beverage blends together milk, ice, the taste of pumpkin, and other fall spice flavors to create a rich and creamy pumpkin spice taste, according to Starbucks. Just like it's PSL siblings, the Pumpkin Spice Frappuccino Blended Crème is topped with sweet whipped cream and pumpkin pie spice. Your taste buds won't be disappointed.
Whether it's 50 degrees or 90 degrees where you live, there's a version of the Pumpkin Spice Latte that is suitable for every season. Just make sure to let your barista know that you want the Pumpkin Spice Frappuccino Blended Crème or the Iced Pumpkin Spice Latte, not just a traditional Pumpkin Spice Latte.