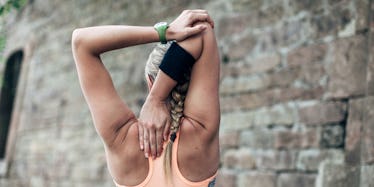 This Woman Learned The Consequences Of Using Fake Tan Before The Gym & Twitter Can Relate
TBH, after I apply self-tanner, I feel like I need to have one of those museum artwork labels that says "do not touch" plastered to my forehead. Like, it's hard enough to make sure you're getting every last crevice of your body covered in bronze goodness, but I'm not trying to get all streaky and uneven immediately after, you feel me? But, some days, you're just busy AF, and while you still want to have that Caribbean getaway glow, you don't want to sacrifice the #gains in the process. So, can you exercise after self-tanning?
I mean, it seems pretty harmless as long as you wait an hour or two... right?
But, then again, there are way too many things that can go wrong with an innocent bottle of bronzer -- from turning out as orange as our POTUS, to being a real-life version of that episode of Friends where Ross gets that disastrous spray tan.
But if you think you can smother your fake tanner all over your body, squeeze in a HIIT circuit, and emerge from the weight room looking like glowing a bronze goddess, think again.
A woman named Eve from Falkirk, Scotland found out the hard way that self-tanner and squats do not mix.
And, naturally, she tweeted her experience for the world to see, chuckle, and cringe at.
Basically, this unsuspecting woman innocently pulled on her leggings way too soon after lathering on some self-tanner. After hitting the gym, she realized she'd been involuntarily branded by Adidas.
I mean, Adidas is great and all, but I'm going to go with a hard pass on having my tan lines in the shape of their logo. You guys are cool, but not that cool.
Fortunately, Eve seems to be laughing at herself in the tweet, and Twitter laughed right along with her. And, the best part is, when something goes wildly wrong and you start to feel dumb AF, there's almost always other people who have done the same exact thing.
Apparently, the whole legging-logo-tan is an actual thing that happens to people.
Twitter user Eden Chicken sympathized with Eve by replying with a photo of her own hilariously bronzed and branded legs. Honestly, this is the Twitter I signed up for -- the one that's understanding, supportive, and relatable AF when you need it most.
In comparison to other spray tan horror stories, Eve's leg-branding mishap actually seems pretty tame. According to a story from The Daily Beast, a woman went out on a date with her crush, and after a wonderful evening that just so happened to include a steamy session between the sheets, the outline of her tan was left on her crush's bed.
I mean, on the bright side, that guy is probably never going to forget her after that, right?
So, Eve, if you must learn anything from this experience, know that you're far from alone in your unfortunate (but still hilarious) self-tanning escapades.
Plus, Adidas clearly fully supports slapping on their leggings before your self-tanner even has a chance to dry.
The company considers Eve's accidental Adidas tattoo "fate," and they are shamelessly here for the free branding opportunity. I can't say I blame them, TBH. But I'd also say Eve deserves some free merch after all of this, but that's just my opinion.
Bottom line: If you're planning to get your beautiful and bronze glow on, make sure you squeeze your sweat sesh in during the a.m. hours, and save your tanning application for the evening.
I mean, unless you want to have that perfectly plastered logo on your thigh. If so, be sure to pick your favorite athleisure brand and tweet out the photos. You never know if they'll decide to send over some free merch as a thank you, right?