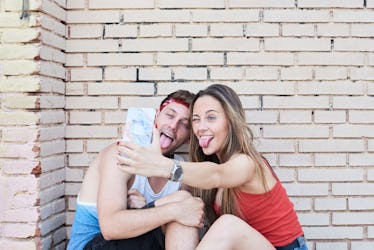 Being Friends With Your First Love Isn't That Complicated, Experts Say
One of the hardest things about breaking up with your first love is feeling the sense that they may be lost from your life forever. They're someone you experienced all kinds of life-changing and amazing moments with for the first time, so naturally they're important to you, and that can be really hard to let go of. But what if you don't have to? What if you can keep them in your life, albeit in a different role? Can you be friends with your first love? Or does your past, and all the baggage it comes with, automatically mean that once the romantic relationship ends, they're out of your life for good?
According to Kali Rogers, relationship expert and founder of Blush Online Life Coaching, the answer is pretty straightforward. "Yes! Of course," Rogers tells Elite Daily. "It's always possible to be friends with an ex. Clearly you two had enough in common to be in a relationship, so there should be enough of a foundation to build a friendship." Whew, that's a relief. But here's the thing: Knowing that something is possible and knowing how to actually make it a reality are two very different things. To help connect the dots, I asked Rogers how to rekindle a former flame into a BFF bonfire. Here's what she said.