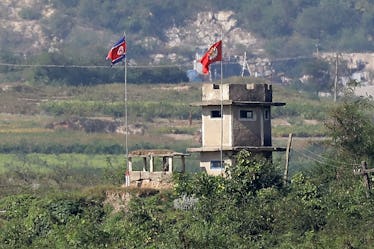 Hawaii Is Bringing Back Attack Warning Sirens Due To North Korea, & The Details Are Dark
Chung Sung-Jun/Getty Images News/Getty Images
We here living in President Donald Trump's America are no stranger to threats coming out of North Korea under Kim Jong-un. Since Trump has taken office it seems like the likelihood of nuclear attack has become more of a possibility than ever before. But now things are seriously starting to get real, and the North Korean threat is closer to home than ever before. Because Hawaii is bringing back attack warning sirens, and the announcement is definitely cause for panic.
Well, let's not get too panicked just yet. The state has decided to include an additional siren to their monthly "attention alert" tests, which airs across all TVs in Hawaii. The monthly test is designed to warn residents of hurricanes, tsunamis and earthquakes, per the Honolulu Star Advertiser. The attack warning addition to the monthly alert test (described as a "wavering-tone siren") was announced by Hawaii Emergency Management Agency Executive Officer Toby Clairmont on Nov. 8, and will begin airing later this week, on Dec. 1.
The monthly test will occur on the first business day of each month at 11:45 a.m. During the test, the standard steady-tone alert (which is understood to be the tone for natural disaster warnings) will air for 50 seconds, followed by a pause, which will then be followed by 50 seconds of the attack warning tone. When (hopefully if) the siren airs aside from its allocated test date, it signals Hawaiians to seek immediate shelter.
A demo of the new alarm — which will be tested for the forseeable future, per the Star Advertiser — can be heard below:
This siren hasn't been present in the lives of Hawaii residents since the Cold War — according to Clairmont, the siren hasn't been heard by Hawaiians since around 1980, when the threat of a Soviet Union attack was the main concern of the state's citizens. So Hawaii's government clearly feels threatened enough to bring back this Cold War-era alarm.
Considering how long it's been since Hawaii citizens have heard this warning siren, this can be viewed as a serious cause for alarm — and for good reason. According to Newsweek, the state is the third closest U.S. territory to North Korea (next to Guam and Alaska) At a distance of 4,500 miles between Pyongyang and Honolulu, a missile from the regime could reach Hawaii in a quick 20 minutes. So there's definitely grounds for the state to be at least conscious of this potential threat and take the necessary steps to protect their citizens.
Although there are no exact estimates of what the potential damage could be if North Korea does decide to strike, one can only imagine how devastating it could be. The state has theorized the potential death toll of a 150-kiloton-yield bomb detonated over Joint Base Pearl Harbor-Hickam, which could cause 18,000 fatalities and 50,000 to 120,000 trauma and burn casualties, according to the Star Advertiser.
In recent months, relations between the United States and North Korea — never great — have become even more strained. On Aug. 8, when asked about the regime and the threat they pose, Trump stated, "North Korea best not make any more threats to the United States. They will be met with fire and the fury like the world has never seen." The "fire and fury" comment did not sit well with Kim Jong-un, and and he responded to Trump's threats with multiple missile launch tests, including one over Japan, according to CNN.
Trump responded to the missile launches with more aggression, when he gave a fervent speech to the United Nations on Sept. 19 where he referred to Kim with the derisive nickname of "Rocket Man" and said that the United States would "totally destroy" North Korea. The country's Foreign Minister Ri Yong-ho responded on behalf of the nation on Sept. 25, calling Trump's tweets and comments a "declaration of war."
The back and forth between Trump and Kim has a lot of people worried — namely the residents of Hawaii and other regions within possible striking distance of North Korea. According to CNN, a missile launched from Pyongyang for a duration of 45 minutes, can go 2,300 miles high and for a distance 621 miles. When the altitude of the missile launch is adjusted to a flatter trajectory, the media outlet suggests it can hit as far as Chicago and Denver. Given that Hawaii is significantly closer than those inland cities, the state has some serious cause for concern.
All we can hope for is that Trump and his administration will make some diplomatic strides to deal with the North Korean threat. Because if this isn't approached rationally, things could go south very, very quickly.