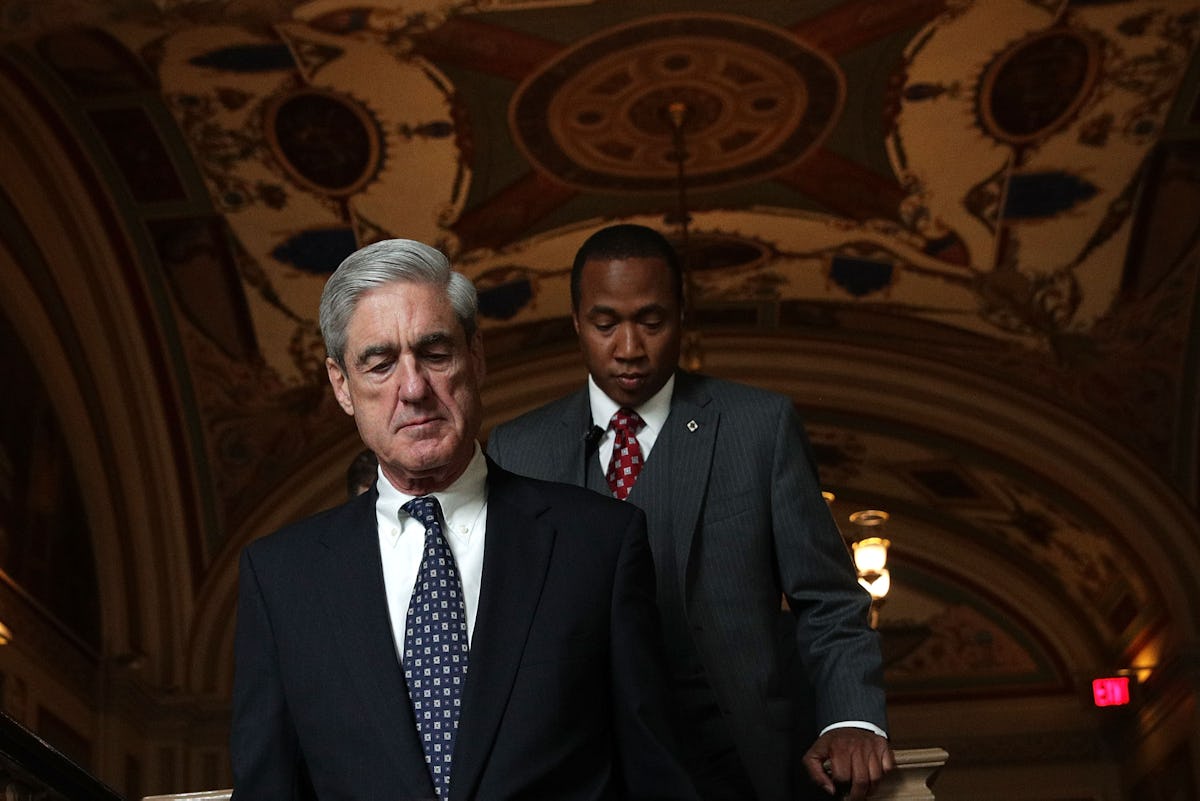 Trump Apparently Wants To Investigate The Team Investigating Him So Here We Are
Alex Wong/Getty Images News/Getty Images
A proposal by one President Donald Trump's lawyer is raising anew questions about top officials in the FBI and Justice Department. The proposal left us asking, can Robert Mueller's team be investigated? It's unclear whether and how such an investigation would affect the work of special counsel Mueller, who is spearheading the Russia probe.
On Tuesday, Dec. 12, Jay Sekulow, one of Trump's personal attorneys, apparently told Fox News he wanted a separate special counsel to be established to investigate FBI and Justice Department (DOJ) officials. The call came after a report Monday night by Fox cited a connection between a DOJ official's wife and Fusion GPS, the firm responsible for the infamous Russia dossier.
Speaking to Axios, Sekulos said, "The Department of Justice and FBI cannot ignore the multiple problems that have been created by these obvious conflicts of interests. These new revelations require the appointment of a Special Counsel to investigate."
Trump has repeatedly referred to Mueller's investigation into possible Russian meddling in the 2016 U.S. election as a "witch hunt," causing those in the political circle on both sides to express concern over whether Trump might fire Mueller. In May, Trump dismissed the former FBI Director, James Comey.
Per Fox, Sekulow's call for a special counsel is not tied to Mueller's Russia probe, nor has the White House made any formal call for such a counsel at this time. Rather, Axios reports that the demand was more aimed at the FBI than at Mueller. But despite that, it appeared that many people were reading the proposal as an attack on Mueller's team, if not an attack on the special counsel himself.
"The crescendo of baseless claims that Mueller & the FBI are biased and corrupt is rising at an alarming pace," tweeted Harvard Law professor Laurence Tribe on Monday. "It's easy to see the plan to discredit the Special Counsel in advance of his windup — if not to sack him outright."
"A new line crossed: Trump lawyer Jay Sekulow confirms to NBC he is calling for a special counsel to *investigate* special counsel Mueller's team," tweeted Ari Melber, a legal correspondent on MSNBC. "Citing alleged conflicts of interests, he says 'New revelations require the appointment of a Special Counsel to investigate.'"
It seems that the Trump camp is not alone in its suspicions of the FBI. "It's long past time for a Special Counsel to investigate Clinton email scandal, Uranium One, role of Fusion GPS, and FBI and DOJ bias during 2016 campaign," wrote Senator Lindsey Graham (R-SC) on Twitter.
Fox News contributor Steve Cortes also had strong words on the subject, tweeting, "Mueller and his team are utterly corrupted and conflicted. We need a special counsel to investigate the special counsel (and the FBI)."
Last week, Fox reported that DOJ official Bruce Ohr was demoted after an investigation found he had previous connections to Fusion GPS. Monday's report found that Ohr's wife, Nellie, also used to work for the same firm, House intelligence committee investigators found. These connections have added fuel to the fire.
Earlier this month, The New York Times reported that Mueller had removed a member of his investigative team over an anti-Trump text that was sent to another FBI lawyer.
This isn't the first time an official has called for a second special counsel to be appointed. Per the Washington Post, in November, Attorney General Jeff Sessions called for an investigation into the Clinton Foundation, the Uranium One deal, and the FBI's investigation of the misuse of Clinton's email server.
It's not clear if and when such a special counsel may be established, as Sekulow has called for. As Fox reports, Sekulow says he simply "let [his] feelings be known." But the proposal probably didn't quell any fears that the special counsel's investigation might be impacted.