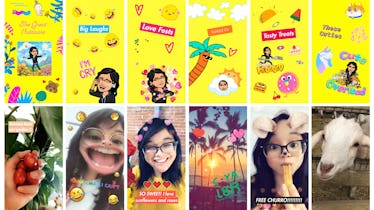 Here's How You Can Change Your Snapchat 2018 Year End Story To Make It Your Own
Courtesy of Snapchat
December is a time for holiday festivities, cozy sweaters, and a ton of year-end activities that let you look back on and summarize your previous 365 days as you position yourself for the new calendar year. One such way to reminisce is the Snapchat Year End story, which is a way for users to review their year via the Snapchat Stories they posted. But if you're someone who wants to make a couple edits to the story before posting for the world to see, you might be wondering: Can I change my Snapchat 2018 Year End Story? The good news is there is a way to make it your own, and you definitely have a few options when it comes to making edits to your Year End Story.
First, you'll need to know where to find your Snapchat Year End Story. When you open up Snapchat, you'll see the Memories button underneath the camera button — it should look like two rectangles angled on top of each other. When you tap the button, you'll be directed to a screen that says "My 2018 in Snaps." This is where you'll find your Snapchat Year End Stories for 2018.
Your Snapchat Year End Story is adjustable in a couple of ways. You can do things like change filters, add writing, and add GIFS to the Snapchat stories that already exist. So if you made a spelling mistake in an old snap or found a new filter that makes the scenery look prettier than the one you used in the original, you can totally go ahead and fix those things. Simply hit "Edit Story" where it says "My 2018 in Snaps."
You can also delete stories you don't want — like maybe that video of you singing along to Meghan Trainor in an Uber isn't how you need to remember your 2018. The only edit you can't make is adding Snaps to your Snapchat Year End Story, so you'll have to work with what you've already got! To make edits, all you have to do is click the pencil icon and make sure your Snapchat is updated to the latest version.
If you've already saved your 2018 Year End Story where is says "Save to Stories," you can edit the photos in there by tapping on the Year End Story in your Memories. When you come across a Snap you want to edit or delete, simply hold down on the Snap and then do what you please with it.
The 2018 Snapchat Year End Story is designed to look back on and celebrate selfies and adventures from the year, according to a Snap spokesperson. You can share the Year End Story with your followers, individual Snapchat friends, or just watch it to reminisce on some of the highlights of the year. You can also do something similar on Instagram and see your top Instagram moments of the year. In 2018, it's so easy to look back on all the precious moments and milestones of your year and gear up for a powerful and positive new one. Thanks, social media!
Snapchat's Year End Story is not the only end-of-year feature you'll be excited about. The social media company released a new feature called Lens Challenges where users can create Snaps tied to a specific song, dance, or event. One such challenge is a sing-along to Gwen Stefani's "Jingle Bells." To participate, users apply the "jingle bells" challenge as a Lens from Lens Explorer and then can try lip-syncing to the song. If you want, you can even send your Snap to the Gwen Stefani Challenge story to be featured.
So whether you want to participate in one of the Lens challenges or access and share your Year End Story, Snapchat has a lot of options to help you close out the year on a fun, positive note. Here's to all the Snap memories you'll make in 2019!