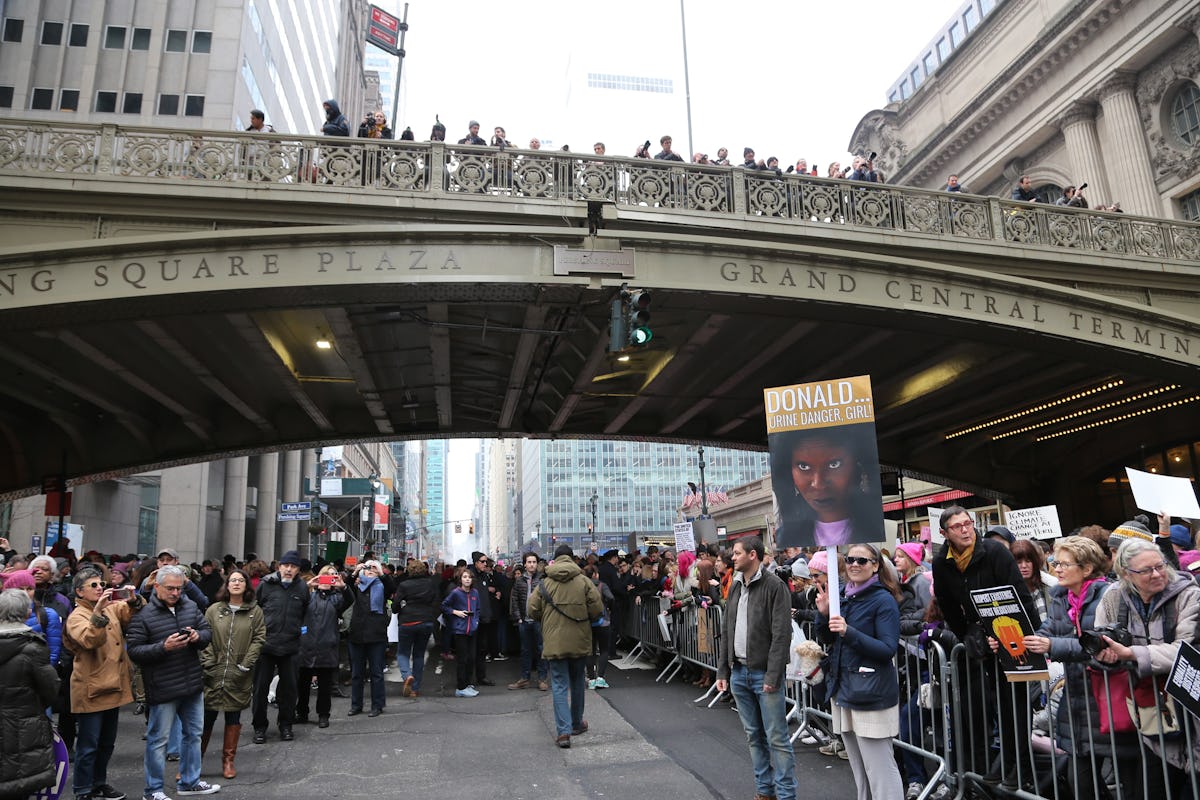 Here's What To Bring To The Women's March On NYC So You Aren't Starving & Thirsty
Rob Kim/Getty Images Entertainment/Getty Images
Just about one year ago, millions of people gathered in cities across the country for the 2017 Women's March. This year, with President Trump in the White House and important issues still present and looming, people will once again take to the streets for the 2018 Women's March on the weekend of Jan. 20. The protests start early and can last through the night so you might be wondering, Can I bring a water bottle to the Women's March on NYC?
According to the Frequently Asked Questions page on the website of organizer Women's March Alliance , attendees of the NYC event are in fact allowed to bring bottles with them to the march. With that said, it's going to be a very crowded event and the NYPD will be performing bag checks, so the Women's March Alliance asks that you stay away from large backpacks or purses and instead opt for something small, preferably clear. They want to make sure that all protest events go smoothly and safely.
So what else can you bring bring with you? Though the FAQ page does not mention anything about food, it seems that you can bring food with you provided that it fits in that small bag.
In addition to food and beverages, attendees are allowed to bring umbrellas as well as posters, although all protest materials should be made from paper or cardboard-like materials. The Women's March Alliance also warns that the NYPD does not allow for, "wooden poles, sticks, or handles." Also, no metal wires. Basically, nothing harder than cardboard. You also probably shouldn't bring small flags, as they, along with anything else made with "prohibited materials," will be confiscated. In summary — if it's questionable it's better to leave it at home or come up with something better (and softer).
Also, it's highly advised that you dress warm. Bring out those winter sweaters and leggings and layer up! According to the Women's March Alliance, the march will go on rain or shine, snow or sleet. So be sure to bring your scarves, gloves, and pussy hats and stay toasty.
The New York City event will take place Saturday Jan. 20. The March on NYC Eventbrite page advises protesters to begin lining up at the main entrance on 72nd & Central Park West at 11 a.m. The actual rally, though, is set to start at 11:30 a.m. on the main stage at Central Park West & 61st/62nd Street. Then at 12:30 p.m. the march will commence from the event stage and continue south towards Bryant Park then south on 6th Avenue. "[The March] will end when the last marcher crosses 6th Avenue & 45th Street," according to the FAQ page. There will also be exits on 44th and 43rd Street.
A heads up that the NYC subways can be a little iffy and an event of this magnitude is sure to put more strain on the transportation system. So make sure that you keep tabs on the subway schedules and routes for the day of, and have a plan B in case it turns out your regular route won't be an option.
And if while marching down 6th Avenue you want to know all the goings on and updates, you're in luck. The Women's March Alliance will be live tweeting the entire event from @nycwomensmarch.
Whether you're in NYC, at the main event in Nevada, or any other place across the country, you have the ability to make your voice heard. This event is an illustration in standing up for what you believe in. Read up on all the guidelines and latest updates to make sure you have all the relevant information. Do your best to stay safe and warm, and make this event even brighter and more powerful than the last!