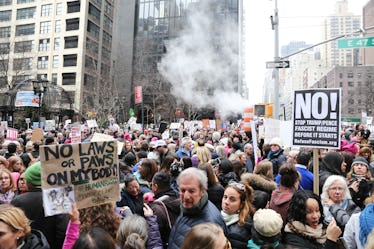 Here's Where To Go For The Women's March On NYC, So Start Planning Your Route
Rob Kim/Getty Images Entertainment/Getty Images
Last year, on Jan. 21, 2017, the Women's March made history as the largest day of protest the United States has ever seen in modern history. And if you think that moment in history was a one-off you are definitely mistaken. This year in 2018, the Women's March organizers have announced marches all across the country will be happening to commemorate last year's event, and we only hope that the turnout will be as fantastic as the first. So, where does the Women's March in NYC start this year? Here's where to go to participate and relive the magic of 2017's historic event.
This year the New York City installment of the Women's March will be taking place on Saturday, Jan. 20, just one day shy of the actual anniversary of the inaugural March. And if you're looking to participate, it is best to be as well informed as possible so that you can help the organizers run yet another successful Women's March.
So, where exactly should you be going? The event's official Eventbrite page lists the main entrance point at 72nd & Central Park West in Manhattan. You can start lining up at that main entrance point at around 11 a.m., although the official rally is set to take place at 11:30 a.m. at Central Park West & 61st/62nd Street, per the Eventbrite page. That rally address is where the stage for the event will be set up, which we can safely assume will feature various speeches from activists and celebrities.
The actual march itself will begin at 12:30 p.m. at that rally starting point, and will go past Columbus Circle, East on 59th Street, and south on 6th Avenue with exits at 45th, 44th, and 43rd streets. So when and where you begin your Women's March protest day really depends on how early you want to start your day, and how important it is to get a good view of the stage at the rally. (The march's Twitter account also recommends that you check the subway schedule for any weekend changes — it would suck to miss the rally because you didn't know that the C train had decided to go express.)
This year's event comes highly anticipated, due to the major success of last year's march. And there is as much reason to go out and participate this year as there was a year ago. The Women's March Alliance writes on their site,
Over the past year, basic rights for women, immigrants, LGBTQ+, people with disabilities, the religious and nonreligious, people of color and even Mother Earth have struggled to survive under the weight of the current administration. America's First Amendment has been challenged and healthcare for millions has been threatened. We must stand together to demand and defend our rights. We will not be silent! Join us and let your voice echo from the streets of New York City to the capital city. Show the world that red, white and blue are colors of tolerance.
Although last year's event in New York City event was a success, as a participant the best way I can describe what I saw would be "organized chaos." The Women's March drew crowds so large, I don't even think the organizers expected that many participants to show up and protest. According to the Mayor's office, more than 400,000 people showed up on the streets of Manhattan, while organizers at the time estimated closer to 600,000 participants, per Reuters. And that doesn't even hold a candle to the 3 to 5 million people estimated to have participated in marches nationwide.
With that being said, the New York City march caused a ton of traffic and pedestrian congestion due to the sheer volume of people that nobody really anticipated or prepared for. So this year the event is seemingly preparing itself to better handle the large crowds and organizing the event in a way so that everyone knows where they're going and at what time.
So get your posters ready and dress warm, NYC. The 2018 Women's March is set to be yet another wonderful day filled with solidarity and love.