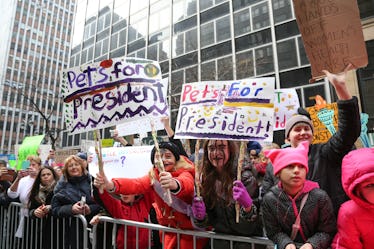 When Does The Women's March On NYC Start? Get There Early
Rob Kim/Getty Images Entertainment/Getty Images
The Women's March on Washington made history in 2017, and people around the country and globe are gearing up for another round. This year, the march returns to cities everywhere, and the timing of the marches varies throughout the weekend between Saturday, Jan. 20 and Sunday, Jan. 21. Those of you in the Big Apple might be wondering when the Women's March on New York City starts. If you'll be in NYC this weekend, here's what you need to know.
The lineup for the event begins at 11 a.m. ET, but let's pause here — the NYC march is expected to be one of the largest, with thousands of people expected to attend. As of Wednesday, some 30,000 people indicated "going" on Facebook, with another 81,000 interested. (One user on Twitter predicted half a million attendees, so make of that what you will.) Facebook isn't exactly a reliable indication of who will actually attend, but even if only a fraction of those people show up, it's good to plan for traffic, transportation delays, and blocks-long lines at the nearest ten Starbucks in the vicinity. (As someone who marched in D.C. last year, I cannot stress the Leave Early rule enough.)
The rally will begin at 11:30 and end sometime between 12:30 and 1 p.m. When the rally finishes, the march will start, and it will end as soon as the last marcher crosses the end point.
The lineup area is on Central Park West, spanning roughly from 62nd Street up to 75th Street, with entry points along the corridor. The main entrance point is 72nd Street and Central Park West, and the stage is at 61st Street. (Don't count on getting too close to the front, as the area in front of the stage will be reserved for those with disabilities.)
The march will go past Columbus Circle, turn east onto 59th Street, then south at 6th Avenue, and will end at 43rd Street and 6th Avenue. There will be multiple exit points along 6th Avenue. If you're fired up and not ready to call it a day, there will be plenty of official activities taking place after the march ends.
The New York City march is one of over 250 sister marches planned for this weekend. The official Women's March kickoff is in Las Vegas, Nevada on Sunday, Jan. 21, and marks the beginning of a 10-state voter registration tour that will be target swing states in the upcoming 2018 midterm elections.
The march wasn't a one-and-done thing for organizers. In October, some 4,000 people attended the Women's Convention in Detroit, also put on by the organization, to dial in the activist base towards agenda-setting, particularly in regards to getting more women into office.
Las Vegas was chosen as this year's official location for multiple reasons. The organization cites the fact that the city is now the site of the largest mass shooting in U.S. history, and that Nevada is one of the key battleground states for 2018.
"Women's March has created a powerful movement that has ignited thousands of activists and new leaders," said Women's March co-president Tamika D. Mallory. "In 2018, we must turn our work into action ahead of the midterms. This new initiative will address voter registration and voter suppression head on. We marched for justice in D.C., we created our plan in Detroit and now we're bringing the power of the polls to Nevada."
Last year's march, per the official Women's March website, was a megalithic event, with over 6 million people worldwide on every continent and in over 600 cities participating. And again, there are sister marches being held around the world this year, from Nigeria to Norway. But the New York showing is expected to be up there among the biggest.
So whether you're traveling to NYC as a first-time marcher or a protest-savvy Brooklynite (or, for that matter, a New Yorker who has the misfortune of working the Saturday morning shift at one of those ten Starbucks), be sure to plan ahead.