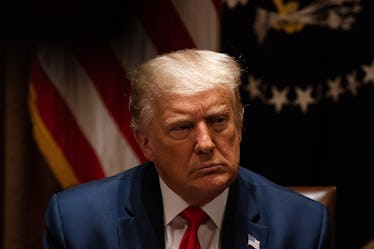 Donald Trump Said He's Going To Ban TikTok In The U.S., But That Could Be Difficult
Pool/Getty Images News/Getty Images
Talk of President Donald Trump banning TikTok first began during a July 6 interview on Fox News, when the Secretary of State Mike Pompeo said the Trump administration was beginning to look into banning the app, along with other Chinese social media apps. Before and after that statement, tensions between the United States and China continued to grow. The President's latest comments on the issue may have you wondering if Donald Trump can actually ban TikTok in the U.S. His bold claim is that he has the authority to do so. Elite Daily reached out to White House reps regarding the specifics of President Trump's plans to ban TikTok, but did not receive a response by the time of publication.
A TikTok spokeperson previously told Elite Daily that the Beijing-owned ByteDance app "is led by an American CEO, with hundreds of employees and key leaders across safety, security, product, and public policy here in the U.S." The spokesperson denied any security issue with U.S. user data on TikTok. "We have no higher priority than promoting a safe and secure app experience for our users. We have never provided user data to the Chinese government, nor would we do so if asked," said the spokesperson.
On Friday, July 31, Trump asserted he was going to ban TikTok from the United States as soon as Saturday, Aug. 1 over concerns it's a national security threat. "As far as TikTok is concerned, we're banning them from the United States," said Trump to reporters on Air Force One. July 31 also saw reports that Microsoft was reportedly in talks to buy TikTok from ByteDance. According to NBC News, Trump doesn't support the deal.
Trump claimed, "I have that authority," referring to the TikTok ban. "I can do it with an executive order," he said, or use his emergency economic powers. Variety reports it's not clear how the TikTok ban would work. The Trump administration could approach the situation by adding TikTok to the U.S. Commerce Department's list of foreign entities, which lists potential national security threats, and then threaten punishment if Apple or Google still carry TikTok in their app stores.
An example of this sort of ban is the Chinese telecom equipment manufacturer Huawei, which was added to the "entity list," by the U.S. government in May 2019. This resulted in a cutoff from Google and other U.S. firms. Since there is no evidence TikTok has engaged in any criminal activity or threatened national security in the United States, James Lewis, director of technology policy at the Center for Strategic and International Studies (CSIS) told The Verge on July 31 the move to put TikTok on the foreign entity list would be extreme and legally dubious, saying it's not something someone can do "because you're mad at a company." The American Civil Liberties Union (ACLU) also weighed in on the idea in a tweet, writing, "Banning an app like TikTok, which millions of Americans use to communicate with each other, is a danger to free expression and technologically impractical."
Trump's statements came alongside a report that he would demand Chinese-owned ByteDance to divest the app. Following this, on Saturday, Aug. 1, ByteDance reportedly agreed to divest the U.S. operations of TikTok, following the POTUS' recent claim that he would be banning the app entirely. Reuters reported two people close to the issue revealed ByteDance is hoping to come to an agreement. Per the sources, this deal proposal would have ByteDance divest its U.S. TikTok operations and Microsoft Corporation would take over. Elite Daily reached out to ByteDance and Microsoft for confirmation of this deal, but did not receive a response by the time of publication.
It is unclear whether this divestment could change things, as Trump also told reporters on Air Force One on July 31 that the ban was his chosen plan. "Not the deal that you have been hearing about, that they are going to buy and sell," he said, referencing the Microsoft deal. "We are not an M&A (mergers and acquisitions) country," Trump said. If the proposal is to be accepted, it would see Microsoft in charge of protecting all U.S. user data, according to the source, and would also allow for another U.S. company to take over the app operations.
In response to the ongoing ban threat, Vanessa Pappas, the U.S. general manager of TikTok, uploaded a community message to Twitter on Saturday, Aug. 1, revealing that the company doesn't plan to cease its U.S. operations. She began by thanking the community for their uploads, creativity, and support. "We've heard your outpouring of support and we want to say thank you. We're not planning on going anywhere," said Pappas. "TikTok is a home for creators and artists to express themselves, their ideas, and connect with people across different backgrounds and we are so proud of all the various communities that call TikTok their home," Pappas continued.
In her message, she also brought up the "1,500 U.S. employees" who work on the app daily and claimed TikTok will provide an additional 10,000 jobs for Americans over the next three years, and recently announced a fund for its creators, which will also climb to $1 billion in a three-year span.
While it appears Trump is set on banning TikTok in the United States, it isn't clear how, or if, this will happen, or if ByteDance's concession to divest will solve the president's issues with the app.