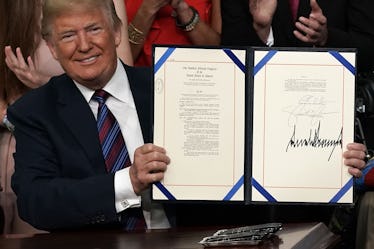 Here Are The Options Trump Has To Release Alice Marie Johnson From Prison
Alex Wong/Getty Images News/Getty Images
On Thursday, May 31, President Donald Trump issued a second pardon within the span of a week, this time pardoning right wing filmmaker Dinesh D'Souza. Among the reasons that the move was unexpected was the timing. Just a day before, Kim Kardashian visited the White House to advocate for the release of woman in federal prison, and that visit made it worth wondering: Can Alice Marie Johnson be pardoned?
Alice Marie Johnson is the 63-year-old for whom Kardashian began advocating in October 2017. Take one look at the type of offender Trump has been pardoning, and you'll notice why the question of her possible release may linger for a while.
During a flight aboard Air Force One on Thursday, Trump talked about people whom he was considering offering presidential pardons to, which would amount to an erasure and forgiveness of convictions on their record.
The president mentioned two names, neither of them were Alice Marie Johnson. Instead, Trump pointed to Martha Stewart, the famed businesswoman known more making products for the home, and Rod Blagojevich, the former governor of Illinois.
In 2004, Stewart was sentenced to a months-long stay in prison for a conviction related to insider trading. In 2011, Blagojevich was sentenced to a maximum of 20 years in prison for charges related to an alleged attempt to sell the open Senate seat of Barack Obama, who of course turned from Illinois senator to president-elect in fall 2008.
Both Stewart and Blagojevich have something in common. They appeared on Celebrity Apprentice with Trump. Both also share a similarity with the other people Trump has pardoned: They are already well known.
So, any conversation about the possibility of Trump pardoning Alice Marie Johnson must note the obvious: It seems like, for now at least, Trump is only pardoning well known figures who have mostly committed white collar crimes.
Alice Marie Johnson is a different case. She was sentenced to a life in prison for a drug related crime.
Still, if the president wants to expedite the release of Johnson, he has multiple options for how to go about it.
He can either pardon Johnson or (perhaps more likely) he can commute her sentence. Commuting a sentence is an action that acts as a lessening of the penalty given for the crime, not the crime itself. Whereas a pardon, while taking away the penalty of a crime also, forgives an offender for the crime.
In explaining the difference, Randy Barnett, a professor at Georgetown University's school of law, cited an example from 2003 in which Illinois Gov. George Ryan commuted the sentences of every inmate on death row. Barnett told ABC News years ago,
By commuting the sentence, [the governor] was saying, "The crime wasn't forgiven, but the penalty has been reduced." In other words, Bush is saying the "punishment here does not fit the crime." On the other hand, a pardon is granted for a number of reasons: because the punishment doesn't fit the crime, the person is innocent or the prosecutors abused their discretion.
The action lessened the sentences for the inmates from death to either life terms or lesser.
At the time that Barnett spoke to ABC News, the news was fixed on the legal troubles of Scooter Libby, who was found guilty in 2007 of lying about his involvement in the revealing of a CIA agent's identity.
Over a decade later, Trump offered a pardon to Libby, despite President George W. Bush having already commuted the sentence. But a pardon has privileges beyond a sentence being wiped away: It can restore privileges that a criminal record precludes a person from having.
If Alice Marie Johnson were pardoned, she'd return to civilization with no crime on her record, and now penalty to suffer outside of a federal prison. Even if Trump doesn't extend that pardon, though, he has other options to expedite her release.