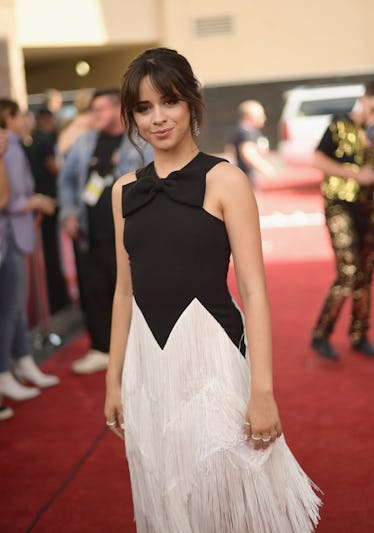 Camila Cabello's 2018 Billboard Music Awards Performance Was So Unique & I'm Obsessed
Matt Winkelmeyer/Getty Images Entertainment/Getty Images
The last year has been a huge one for Camila Cabello. The singer released her first solo album in January 2018, Camila, and she's already up for four major awards at tonight's Billboard Music Awards — Billboard Chart Achievement, Top Female Artist, Top Collaboration, and Top New Artist. Before picking up the win for Billboard Chart Achievement (woohoo!), Camila Cabello performed 2 songs at the BBMAs. She took the stage with Pharrell to perform their new single, "Sangria Wine," and as expected... the duo killed it.
After watching them do the jam serious justice, I must say "Sangria Wine" is already in early contention for song of the summer. Camila even did a solo portion — complete with backup dancers and everything — before breaking out into a sultry rendition of her smash "Havana." This appropriately caused the crowd to go wild. Did you see Mila Kunis getting down? Who doesn't like this banger of a track? Man, does Camila have pipes? I would listen to her sing the State Farm jingle. Anything.
Camila made headlines back in 2016 when she decided to leave the successful girl group Fifth Harmony to go out on her own. Fifth Harmony rose to fame in 2012 on the second season of The X Factor USA and churned out catchy hits like "Miss Movin' On," "Worth It," and "Work From Home" over the past six years.
"It became clear that it was not possible to do solo stuff and be in the group at the same time," Cabello explained of the departure from the group. "If anyone wants to explore their individuality, it's not right for people to tell you no."
Camila actually made her inaugural solo TV performance at last year's Billboard Music Awards when she performed "I Have Questions" and "Crying in the Club."
Cabello's first individual album, this year's Camila, ended up debuting at number one and went certified gold. In January, she became the first artist in 15 years to simultaneously top the Billboard Hot 100 chart and the Billboard 200 Albums chart. The last person to do that was Beyonce, by the way. Her song "Havana" was released in August of 2017, but the track is still getting plenty of radio play nearly a year later. Camila spoke to NME about how taking a risk with the song paid off and ultimately changed her career, explaining,
When you're a new solo artist, people are kind of scared to do stuff that's different or new because they just want to go with what's already being played on the radio. They want to stick to the formula that's already been tested. We didn't even release 'Havana' as a single because no one believed in it enough. They were like, 'Oh that's a cool song, but it's definitely not what you want as a single from your album.' And so when it worked, I was like, 'Nobody really knows anything, so you might as well go with what you love.'
And it's no wonder Camila rocked the stage with ease at tonight's awards — she's been getting plenty of practice of late. The 21-year-old is currently touring with none other than Taylor Swift on her Reputation Tour. She opened at Pasadena's Rose Bowl performance this weekend. Camila is also in the midst of her own headlining Never Be the Same Tour, which began in April.
"I'd spent almost a year making this album, and I really didn't stop until I felt like I was ready to close this chapter. I was like, "If I'm gonna do this my way, I'm gonna do it my way," Camila told People earlier this year.
It seems like Camila is doing it her way and her way is obviously working. *puts "Sangria Wine" on repeat*