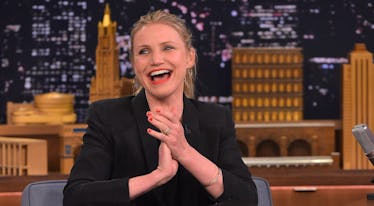 Selma Blair Spilled Devastating News About Cameron Diaz's Acting Career & We're Miserable – UPDATE
Theo Wargo/Getty Images
Have you been wondering why you haven't seen Cameron Diaz in any movies recently? Well, it turns out, it's because she retired from acting! It is unclear exactly how long Diaz has officially been out of the movie business, but her former co-star Selma Blair confirmed that she has indeed moved on from her acting career. During the Vanity Fair Oscars afterparty, Blair stated that Cameron Diaz has retired from acting, so I guess we will have to give up any hope of a Charlie's Angels reunion or any more of her beloved rom-coms.
Update: Selma Blair tweeted the following message about Cameron Diaz: "BREAKING NEWS: Guys please, I was making a joke in an interview. CAMERON DIAZ is NOT retiring from ANYTHING. And for more breaking news: I am NOW retiring from being Cameron Diaz's spokesperson."
Earlier: Cameron Diaz has been pretty notably absent from the acting business for about four years now. Her final movie role was as the curmudgeonly orphanage caretaker Miss Hannigan in 2014's remake of Annie. In 2014, she also starred in the raunchy romantic comedies Sex Tape and The Other Woman, along with hosting Saturday Night Live for the fourth time. Diaz had yet to sign on to any more film projects since that year, and now it seems that we should not expect her to do so in the future.
Selma Blair, who worked with Cameron Diaz on the 2002 campy rom-com The Sweetest Thing, confirmed that Diaz has indeed retired from acting. Blair said that she was recently talking to Diaz about the movie, but when the idea of a sequel came up, Diaz revealed that would not be possible since she has retired from the biz:
I had lunch with Cameron the other day. We were reminiscing about the film. I would have liked to do a sequel but Cameron's retired from acting. She's like 'I'm done.' ... I mean, she doesn't need to make any more films. She has a pretty great life, I don't know what it would take to bring her back. She's happy.
Apparently, Cameron Diaz will be focusing on her home life now that she does not have to be memorizing lines and running to movie sets. The former actress married Good Charlotte guitarist Benji Madden at the very beginning of 2015. It is interesting to note that Diaz stopped taking acting roles pretty much right when she got married, so a focus on married life could very well be the reason behind her choice to retire.
Prior to her retirement, Cameron Diaz's acting career remained formidable for the entirety two decades. She got her start opposite Jim Carrey in 1994's The Mask, and went on to be one of the preeminent faces of romantic comedies in the '90s with lead roles in There's Something About Mary and My Best Friend's Wedding. In the 2000s, she continued to star in beloved rom-coms like The Holiday and In Her Shoes, but also took on action roles in Charlie's Angels and Gangs of New York. As raunchy comedies began overtaking rom-coms in the 2010s, Diaz adapted by starring in more irreverent comedies like Bad Teacher and Sex Tape.
So many of Cameron Diaz's movies continue to be beloved by audiences today, and although she has not starred in a new movie in nearly four years, Diaz is still considered one of Hollywood's most recognizable leading ladies. But despite her career still being at a high point (her final three movies were all big-budget, highly publicized releases with her name as a major selling point), Diaz has apparently decided to step away from the camera and focus on her family.
We are definitely all going to miss Cameron Diaz on the big screen, but hey — she still gave us dozens of classic movies to rewatch whenever we want. I mean, what even is the holiday season without The Holiday, am I right?