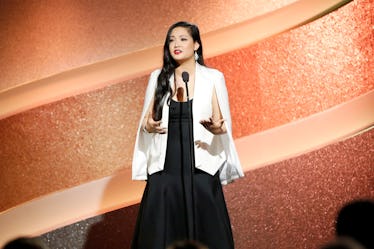 California Made A Major Move To Support Survivors Of Sexual Assault
Rich Polk/Getty Images Entertainment/Getty Images
Amidst all the dreary news of sexual harassment and assault coming out of Hollywood, the Golden State got some good news. On Thursday, Oct. 12, California became the latest state to pass the Sexual Assault Survivors' Bill of Rights, giving much-needed protections to survivors of sexual assault. The bill provides a number of provisions that are designed to make the process of reporting an assault to authorities and pursuing criminal cases easier.
Assemblyman Marc Berman (D-Palo Alto), one of the bill's joint authors, tells Elite Daily,
Now, when people go through this experience, they're going to be supported a lot more, and it's going to be clear for them what their rights are.
The bill of rights passed in California, known as AB 1312, is based on a model bill written by Amanda Nguyen, who founded a nonprofit to secure civil rights for sexual assault survivors after justice in her own case failed in Massachusetts. Nguyen explains to Elite Daily that key features of the bill include the right of sexual assault survivors to know their rights and resources, receive a copy of their police report, access their medical record, receive free showers at medical facilities after a forensic exam, apply a 20-year statute of limitations, and not have their evidence destroyed before that time runs out.
Nguyen's organization, called Rise, pushed through a federal bill with the same name, passing both houses of Congress unanimously and being signed into law by President Barack Obama in October 2016. Since then, Nguyen and her Rise state counterparts have been working to get bills of rights secured in all 50 states. The California bill, jointly authored by Berman and led by Assemblywoman Lorena Gonzalez Fletcher (D-San Diego), was passed unanimously in both the assembly and senate in September. California Gov. Jerry Brown signed the bill into law on Oct. 12.
Because states' rights can supersede the federal law on this matter, Nguyen stresses the importance of getting separate state-level bills passed to ensure survivors' rights, and says California's is the most comprehensive bill of rights Rise has passed to date.
This bill has particular meaning for California — and not only because it's Nguyen's home state. The Golden State is home to 11 million survivors of sexual assault according to a Centers for Disease Control and Prevention (CDC) estimate cited by the California Coalition Against Sexual Assault. Two million are specifically survivors of rape. Assemblywoman Fletcher tells Elite Daily that hearing survivors' stories — including what is often a traumatic post-assault process — was what drove her to work on this bill. She adds,
To keep the victim from being revictimized by never allowing some closure is one of the main reasons I did that.
Berman shared Fletcher's sentiment, telling Elite Daily he teamed up with Fletcher after realizing they'd both separately taken up essentially the same legislation. Berman is committed to combating the problem beyond the Sexual Assault Survivors' Bill of Rights, he says, and his office plans to introduce more legislation around it next year. He says,
A lot of people say, because it's predominately women [who] are victims of sexual assault, that this is a women's issue — and that's not true. This is a man's issue, because we are the ones [who] are committing these crimes. We should step up and be equal partners in finding solutions to address it.
It was a culmination of things — including the Brock Turner case, which involved a student at California's Stanford University — that pushed Berman to action. Back in November 2016, he was already working with Rise to push for the bill of rights. He says the criminal justice process played a big role, too, saying,
More and more sexual assault survivors were coming out and talking about the experiences they had in the criminal justice system as they went through with trying to prosecute a case against their attacker ... [the] process was more traumatic than it needed to be and should be.
And the impact has already been positive. Berman says,
The appreciation that we've gotten from survivors who've gone through this experience, and had a remarkably difficult experience to have — on top of what was already a traumatic event — it's awesome to be able to see a tangible impact in the work that we do.
Rise has passed bills in a number of states, with 38 states remaining. Nguyen says she's hopeful that the success in California, a legislative powerhouse, will push other states to act swiftly to enact their own bills of rights. Those interested in working to help accomplish this can contact Rise, and more resources for survivors and allies are available.
The good news is that Rise is getting more help. Last month, the Chan Zuckerberg Initiative, the philanthropic engine led by Facebook founder Mark Zuckerberg and wife Priscilla Chan, announced financial support for Rise to help secure Survivors' Bills of Rights. Nguyen says the organization's support "is a big deal for us on so many levels."
Nguyen emphasizes how important getting these bills passed is in the larger scale of history. She says,
I heard from so many people who reached out saying that they needed these rights. There was this moment in history where I actually had a chance to make a difference and solidify a movement. There [are] so many other activists who have worked for decades for me to be able to get to this moment, and I am just so grateful for the decades of people.
There's a long way to go in the fight to combat sexual assault, especially on the prevention side. But in a battleground that is unduly hard on those who are sexually assaulted, a win is much more than just a win. One more state has voted in favor of survivors, and this Californian, at least, is grateful for it.