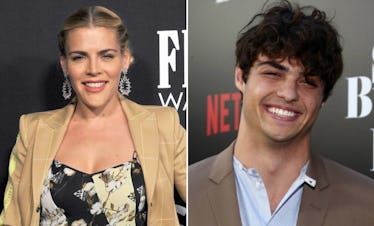 Busy Philipps Called Noah Centineo Out For Ghosting Her Friend On National TV
Busy Philipps Called Noah Centineo Out For Ghosting Her Friend On National TV
Busy Philipps has no shame about calling people out when she sees fit. And unfortunately for Noah Centineo, it was his turn to be called out... and on television, no less! Philipps and Centineo both appeared on the Late Late Show with James Corden and during their chat with the host, Philipps revealed that Centineo ghosted a friend of hers. As if that wasn't enough, TMZ reported that Busy Philipps' story about Noah Centineo ghosting her friend sent Centineo's team into overdrive. Elite Daily reached out to Centineo's team regarding TMZ's claims, but did not hear back by the time of publication.
In any case, the little chat between Philipps and Centineo went like this: Corden asked Centineo if he was single and when he confirmed that he was, the TV show host asked Philipps if she had any friends she could set Centineo up with.
"Actually, he was kind of chatting with a friend of mine and then he ghosted her," she said before turning to Centineo. "Do you know this?"
Although Centineo said he didn't know who the friend was, he was laughing quite a lot during the segment. Apparently the friend in question here is one of Philipps' work colleagues. Yikes!
While the segment was edited to seem short and sweet, TMZ reports that it was actually much longer than what was aired. According to TMZ, "Noah's team were worried about the segment, and asked Corden's people to heavily edit it down." Elite Daily reached out to Centineo's team regarding TMZ's claims, but did not hear back by the time of publication.
And that's totally understandable. I'm sure Centineo was embarrassed by the situation and I doubt Philipps' friend would want to be exposed on TV. Not that the public wouldn't find out about the conversation anyway. A source close to the situation told TMZ that "Busy went into detail about how Noah met one of her writers on a dating app, and dragged him for ghosting her" and that "Noah's team feared the story would ruin his boy-next-door image."
Centineo's star is on the rise and it would be unfortunate for something as small and seemingly insignificant as this to mess with his reputation.
Speaking of Centineo's reputation and him becoming a rising star, he's gracing one of four covers for The Hollywood Reporter's 2018 Next Generation issue. In his interview with the magazine, he talked about a lot of different things, including his passion for acting. He also talked about how having his career stalled after shooting a pilot almost made him quit.
"I had this six-month contract that didn't allow me to audition for anything [else]," Centineo told THR. "My purpose was just to act, and you take away someone's purpose and you kind of deteriorate them."
So, with all that in mind, it's easy to see why Centineo's reputation is important to him and his reps. But at the same time, Philipps' friend deserves sympathy, too. She's just looking for love. I hope she finds it!