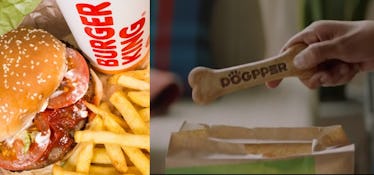 DoorDash Is Offering Free Whopper-Flavored Dog Treats, So You Can Pamper Your Fur Baby
As a lifelong dog owner, I have to admit it's super fun to share anything and everything you love with your beloved fur baby. But sometimes, dogs aren't able to read what you read, watch what you watch, and most importantly, eat what you eat. Luckily, Burger King just came out with a dog treat which supposedly tastes just like a Whopper, known as the "Dogpper," and it's an undeniably grand time. The best part, however, is the fact that Burger King's Dogpper and Whopper DoorDash deal will get you a free Dogpper (yes, free!) with every Whopper and Dogpper combo order. So if you want to make your doggo's day, make sure to check out this amazing offer.
DoorDash is coming in super clutch for dog owners everywhere, so if you have a pup of your own, listen up. According to a press release, DoorDash is offering one free Dogpper for every Whopper and Dogpper combo purchased until Tuesday, Dec. 4. Get in on this as soon as you can, though, because this glorious offer is only valid while supplies lasts at participating locations. DoorDash is going to be waiving any and all delivery fees for purchases over $10, and keep in mind that it's only valid for new customers only. So, make sure to get it while it's hot, because your pupperoo is going to be absolutely overwhelmed with joy.
On Saturday, Dec. 1, Burger King announced the delightful deal in a super heartfelt video. Dog owners were ordering burgers, and couldn't resist their fur baby's longing puppy dog eyes. But, with the Doggper, their pups are now able to get in on the fun. So adorable, am I right?
In the caption of the tweet, Burger King said:
give ur doggo a yum. free treat when you order the Whopper + Dogpper combo on DoorDash. see details: http://drd.sh/7pDRcM/
OK but really, how cute is this? I seriously cannot handle all of BK's glorious pupper love.
Anyway, as you would have imagined, Twitter got a kick out of this unreal offer. Check out their pure (and so, so genuine) responses, below.
Similarly, earlier in summer, 2018 on National Dog Day, a gourmet cupcake shop called Sprinkles was offering free "Pupcakes" to furry customers at Sprinkles locations nationwide. Usually, Sprinkles' Pupcakes cost between $2.50 and $3, but pup owners were able to get a freebie with the purchase of any regular Sprinkles cupcake, and by muttering the passcode, "Puppy Love." It was seriously that easy, and doggos nationwide were absolutely thrilled.
TBH, I love treating my doggo as much as anyone else does. Certain foods, however, aren't safe for your beloved furry friend to eat. Luckily, BK's dog-safe Dogpper is available now to share with any and all of your doggy pals, and if you order a Whopper and Dogpper combo through DoorDash, you can get another one for free. For real, this is the greatest day ever, people and pups, so sit, shake, and enjoy those Whopper and Dogpper combos.