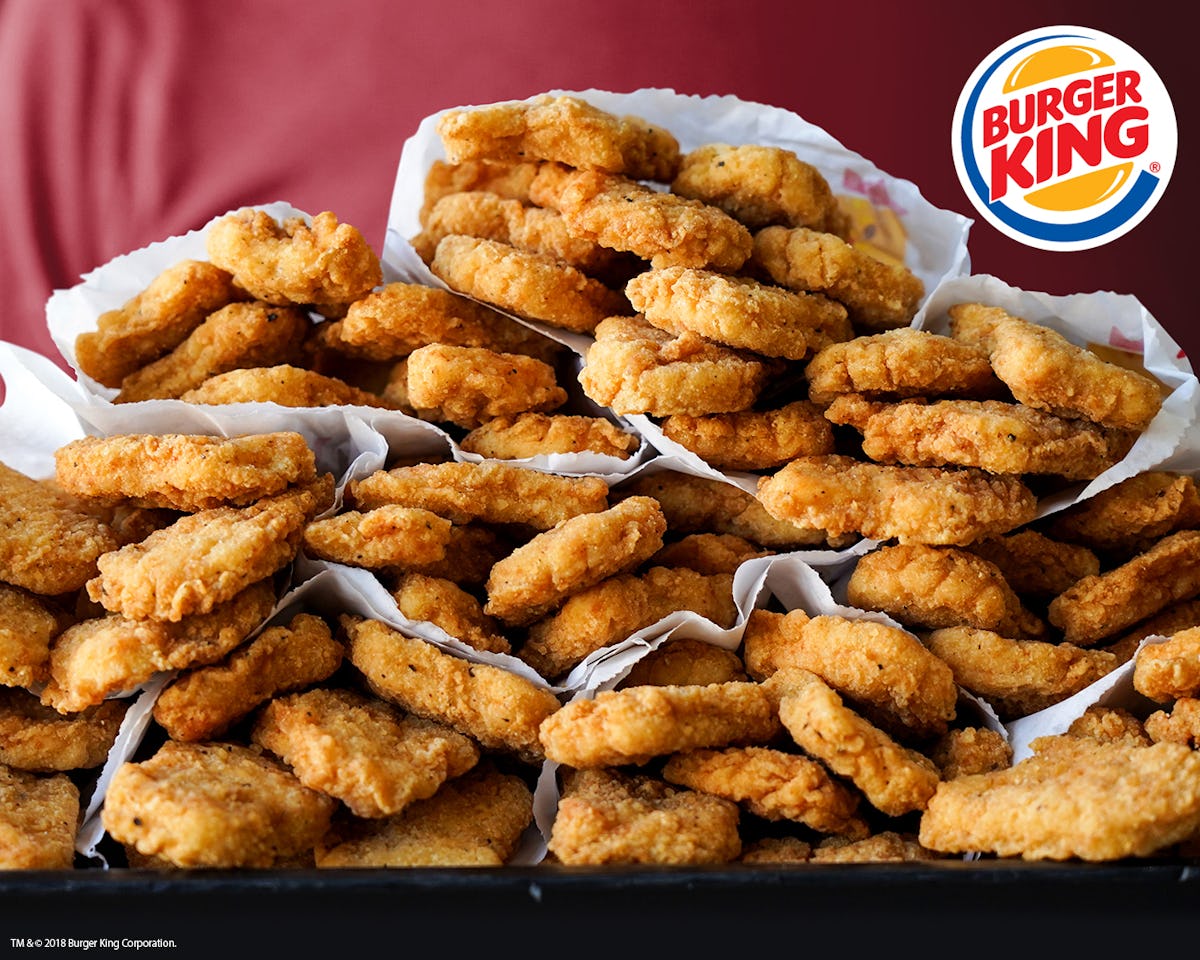 Burger King Is Selling 100 Chicken Nuggets for $10, So Cancel Your Dinner Plans
BURGER KING
As of Thursday, Oct. 11, chicken nugget devotees can run, not walk, to their local Burger King for all the bite-sized, golden-fried pieces of chicken their hearts desire at just a fraction of the cost. Not only can you now get 10 crispy morsels for just $1, but Burger King's 100 chicken nuggets For $10 deal with Postmates is now a thing in a few select cities. Come Thursday, you'll want to cancel your dinner plans for the rest of the week (Actually all your plans, TBH) because you'll be too busy chowing down on all the nuggs that your body can handle.
"There's such a thing as too many nuggets," said no one ever, which is why BK is making it cheaper than ever to indulge. "We know how much our guests love our delicious chicken nuggets," Chris Finazzo, President of North America, Burger King Corporation, said in a press release. "They are crispy, they are golden, they are tender, there are 10 of them, and they are now just a buck."
As of Thursday, Oct. 11, the fast food giant is launching the deal nationwide, which means that you can walk into any Burger King in the United States and snag 10 golden nuggs for just one single, according to a press release. Forget Dollar menu items, because this deal is giving me life. Honestly, the only thing you have to worry about is potential chicken nugget shortages and long lines that wrap around the block, because something tells me that literally everyone will be jumping on this deal come Thursday.
Speaking of lines, I'd recommend trying to hit your local BK at an off time to avoid spending your whole lunch break waiting for your meal. Burger King is already anticipating pretty high demand for its savory, home-style seasoned battered nuggets, so the chain teamed up with Postmates for an incredible promotion that seems like it was made for football season. For just $10, you can order 100 chicken nuggets from Postmates using the code "NUGGS" at checkout, according to the press release. No fuss, no waiting, no delivery fee, just 100 golden nuggets delivered to your doorstep. I did the math, and you're literally getting crispy nuggets for just 10 cents per piece. Like, a dime. TBH, this might be the deal of the year, and my mind is blown.
If this sounds too good to be true, there is one big catch before you go into full hibernation mode and order hundreds of chicken nuggets to your apartment. Per the press release, the free Postmates delivery is only available in Los Angeles, Miami, and Fort Lauderdale, so you'll have to physically head to your local BK if you don't live in one of these cities. In addition, the Postmates promotion will only be valid through 11:59 p.m. on Oct. 14, so I'd take full advantage of 10-cent nuggets with free delivery while you still can.
Luckily, while the Postmates delivery promo might be phasing out in a few days, BK's $1 for 10 nuggets deal will be sticking around for a while. Again, you're still getting your fried chicken morsels for only a dime a piece, so I'd suggest that you ready your taste buds and bring a couple friends and all the bags you can carry to make the most of your fried chicken feast.