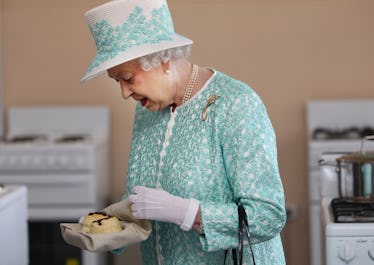 Buckingham Palace Is Looking For A Pastry Chef & You May Be More Qualified Than You Think
Pool/Getty Images Entertainment/Getty Images
Are you looking for a summer job? Well, look no further, y'all. There's some dream employment potentially right within your grasp, and it's, ahem, royally delicious. Buckingham Palace's pastry chef job listing is officially in the classifieds, and it's the type of opportunity that's 100 percent worth uprooting your life and moving to England for. The one catch is that you have to be able to bake, of course — like, really, really well. And, apparently, as the job listing states, you should also have some killer IT skills, to boot? I know, I'm just as confused as you are.
But hey, where there's a will, there's a way into the palace, even if it means learning a little more about computers while perfecting your fondant. So if your dream is to be the person who lives above the kitchen in Buckingham Palace, who casually makes Queen Elizabeth II her daily scones, then you just have to make sure you fit some pretty top-notch qualifications.
According to the listing on the royal household website, Buckingham Palace is searching for "a highly qualified and skilled Pastry Chef, with experience at a senior level from a fine dining or five star catering operation."
The job listing goes on to explain that, yes, you are going to have to prove that you can creatively kill it in the cakes and baked goods department on a large scale. After all, you know the royal family is going to be hosting some big parties and high teas with a rather glam and dignified group of guests. The listing states:
With extensive knowledge of classical cuisine, and of the food industry in general, you're adept at planning and developing menus for a wide range of occasions, including volume catering.
The ideal person for the job, the listing says, is someone who has "excellent people management skills," who is "used to motivating and developing a large team." The job description adds,
It's essential that you can plan, organise and delegate effectively, as you and your team will be delivering for varied occasions, across several sites.
And yes, the ad royally points out, it's also important that "you can follow all legislative requirements, and have good IT skills."
While that particular detail might seem completely out-of-place in a pastry chef job listing, of all things, there's no real explanation for why Buckingham Palace apparently requires a tech-savvy person to be in charge of scones. But hey, the role still sounds pretty incredible altogether, doesn't it? After all, not only does a job as Queen Elizabeth's pastry chef mean that you're making delicious treats for royalty (which means you're also likely to be invited to some of those future royal wedding parties, right?), you also have the option of actually living in the freaking palace!
Plus, the job listing says, all your meals will be taken care of if you're hired for the role. Oh, and did I mention you'd get one of those incredible European vacation-day packages with 33 days off a year? And "access to a range of recreational facilities"? In my mind, that obviously means you'd be free to swim in the palace pool, or hit some balls on the tennis court with other, distinguished UK royals. Look, I don't know if any of that is actually true, but join me in this fantasy, won't you?
Like, imagine frosting the cupcakes for Prince George's birthday party, or serving Prince Philip some Sunday morning scones.
Honestly, the only possible "con" I can glean from this incredible job opportunity is that you might have to get used to Queen Elizabeth's sometimes-odd eating habits. As Business Insider reports, she usually asks for scones with her afternoon tea, but she apparently has a habit of sharing them with the corgis instead of actually eating them. I mean, same, so at least she and I would have something to relate to one another on, right?
So, if you think you can handle watching some royal corgis gobble up your scones, and you've brushed up on your IT skills (whatever that means), go ahead and submit your application — why not, right? You've got until June 26 to apply, y'all, so get to it!