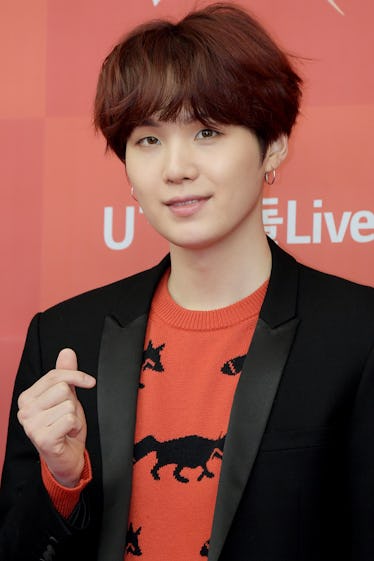 BTS Posted The Cutest Photos & Videos Of Suga For His 28th Birthday
THE FACT/ImaZinS/Getty Images
BTS is celebrating a very special occasion this week: Suga's birthday! He's turning 28 on Tuesday, March 9, but because Korea is 14 hours ahead of the United States, the rest of the group is already paying tribute to him on social media. You need to see BTS' tweets for Suga's 28th birthday because they show how much the members love him.
Every time it's someone's birthday in BTS, the guys go all out for the occasion, and this time was no different. They flooded their shared Twitter account with the cutest, previously unseen pictures and videos of Suga. Jin, who also just turned 28 in December, was the first to post about Suga. "Yoongi-yah I'm the first to wish you a happy birthday, happy birthday," he tweeted on March 7, alongside a sweet close-up shot of the birthday boy wearing the coziest knitted sweater. If that wasn't cute enough, Jin also scribbled "Yoongi Happy Bday" on top of the photo.
Next up was RM, who shared two behind-the-scenes photos of him and Suga in their dressing room while wearing matching sweaters. He wrote, "Yup, happy birthday to our Yoongi~~ #HappyBdaySuga."
J-Hope then took over the account to post photos of Suga wearing CHIMMY and RJ outfits while filming episodes of Run BTS! "HBD to our hyung, cutie. #HAPPYSUGADAY #HappyBirthdaySUGA #HopeFilm," J-Hope tweeted.
J-Hope's birthday tribute didn't end there. He shared another series of photos showing Suga having dinner in Paris, vacationing in New Zealand, and posing behind the scenes at The Late Show With Stephen Colbert.
Afterward, J-Hope posted a video of Suga making a funny face during a Map of the Soul: Persona photoshoot. "If I have a dream, Suga #HappyBirthdaySUGA #HappyBdaySuga #HopeFilm," J-Hope captioned the clip according to a fan translation by @BTS_Trans, referencing a lyric from Suga's Agust D song, "So Far Away,"
Thought J-Hope was done? Not yet! He shared one more video of Suga hilariously showing his fancy footwork on a giant floor piano at one of BTS' merchandise pop-up shops. "To finish up, HBD to our hyung who is so talented," J-Hope tweeted, according to another fan translation by @BTS_Trans.
Jimin then stepped in to post a photo of Suga sleeping. "Our hyung is cool even when he's sleeping #JIMIN #HappyBdaySuga," Jimin wrote.
Suga is clearly so loved by his members! On Sunday, March 14, he'll get the best present of all: A solo BTS performance at the 2021 Grammy Awards! It's been his dream to perform at the ceremony for the longest time, so it will definitely be a big night for him!