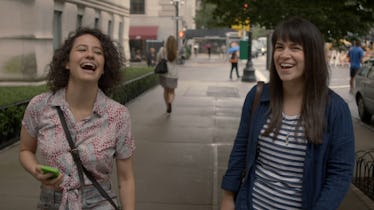 'Broad City' Will End After Season 5, But Don't Stop Screaming "Yas Queen" Yet
Comedy Central
Comedy Central truly blessed us when it renewed Broad City for Seasons 4 and 5 more than two years ago, but now given recent news, that announcement feels bittersweet. After series stars Ilana Glazer and Abbi Jacobson recently signed a first-look television deal with Viacom, their career shift has officially nailed an end date on their beloved comedy show. Broad City will end after Season 5, but that definitely won't be the last we see of Glazer and Jacobson.
The Hollywood Reporter confirmed that when Broad City returns in early 2019, it will be for its final season. Glazer and Jacobson's new deal with Viacom, of which Comedy Central is a branch, has already ushered in three in-development projects and will entail the duo working together and separately. So, thumbs up for seeing more of this fierce, funny pair in groundbreaking content, but that doesn't quite nurse the pain of parting with Broad City just yet.
In a joint statement, Glazer and Jacobson said:
Broad City has been our baby and first love for almost 10 years, since we started as a web series. It's been a phenomenal experience, and we've put ourselves into it completely. Broad City's always had a spontaneous pace and feeling, and ending after season five honors that spirit. We are very excited to bring new voices and points of view to Comedy Central and continue our collaboration together in new ways.
Comedy Central president Keith Alterman also spoke to The Hollywood Reporter about the decision to end the show, saying:
It's more of a creative thing than anything. It's a show about two 20-somethings in New York and Abbi and Ilana are smart about not wanting to overstretch it beyond plausibility. They're telling a particular story about post-college era in New York. It's an organic conclusion to the journey that they've been on... Ultimately it was their decision — where they want to resolve the characters' stories. We'd never want them to overstay their welcome. It was really driven by creative storytelling and when is a natural life [of the show]? We're thrilled with five seasons of a show like this.
While they've always had a hands-on approach to the Broad City storyline, Glazer and Jacobson aren't writing or starring in any of their new projects, choosing to executive produce instead. The three shows are insanely different from each other and Broad City, ranging from a story about a 13-year-old girl immersed in American mall culture to a White House speechwriter coming of age alongside five housemates in Washington, D.C.
The third show, Platinum Status, is already a family affair, as it's written by Glazer's brother Eliot Glazer, who also stars as a gay man beginning a relationship with a woman after his longtime boyfriend dumps him. Broad City's Glazer will produce it with her brother, but she will produce alongside Jacobson on their two other projects, Mall Town USA and Young Professionals.
The two women also have other projects outside of Comedy Central programming ahead of them. Working for Amazon, Jacobson will also co-write and co-executive produce a half-hour comedy series based on A League of Their Own.
Although fans have plenty of warning about the series's end ahead of time, that didn't stop them from reacting badly to the news on Twitter.
On the other hand, some viewers feel like it's time for the series to wrap, which is a valid point. After all, would true fans want Glazer and Jacobson forever committed to the show and therefore feel prevented from taking other opportunities?
Luckily, since Season 5 won't even begin until 2019, we have plenty of time to revisit our favorite Broad City moments until the finality of the series sinks in. That alone deserves a "Yas, queen!"